American Dad!: Season 3
(2007-2008)
SEASON: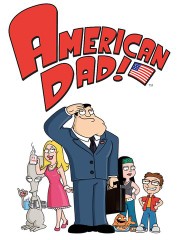 AUDIENCE SCORE
Critic Consensus: No consensus yet.
Episodes
Air date: Sep 30, 2007
Francine is enraged to discover that all of her vacation memories have been artificially created, and now she's determined to hit the road for a real family getaway. While Francine indeed gets her wish for the vacation of a lifetime, she starts to have so much fun that she begins to suspect it's just another ruse by the CIA. As Francine's family is forced to bear the brunt of her paranoia, Roger makes it his mission to become a world-class actor.More
Air date: Oct 7, 2007
Stan is starved for power, and who has more power than the average meter maid? Upon embarking on his new career Stan quickly realizes that being a meter maid has it's fair share of perks; not only can he land the best restaurant tables, but quarters flow freely from he meters and Francine seems impressed, too. Later, a visit from Parking Internal Affairs agent Turlington (voice of Forest Whitaker) convinces Stan that crime doesn't pay, and Hayley becomes a nude model for a college art class.More
Air date: Oct 14, 2007
Stan is praying for a new pal when he makes a connection with an amiable atheist. Now Subsequently convinced that he must convince the man that God exists, Stan makes his new friend's life a living hell. Meanwhile, as the plan begins to backfire, Roger announces to Steve that he has been accepted to Hogwarts.More
Air date: Nov 4, 2007
Francine's adopted parents have dropped by the house unannounced, and now they're refusing to accept Stan as the "man of the house." Convinced that the only way of getting rid of them is to track down Francine's birth parents, Stan sets out on a search and rescue mission as Steve strives to get frisky with the hottest girl in class.More
Air date: Nov 11, 2007
Hayley is determined to move to France, citing the fact that America has been overrun by imperialistic oppression. In order to keep his daughter on U.S. shores, Stan convinces Hayley that she was once brain washed by the CIA. Later, against the advice of Bullock, Stan gains complete control of Hayley by using her trigger word. But activating his daughter could have deadly repercussions should Stan delay in snapping Hayley out of her current trance. Meanwhile, Steve and Roger make the decision to become private eyes.More
Air date: Nov 18, 2007
The guys are playing poker when it's discovered that Stan is still a virgin. Of course he's has sex, he's just never killed anyone. Now, in order to get their old pal Stan some proper experience, Roger and the rest of the gang team up to find Stan a suitable victim.More
Air date: Dec 2, 2007
Francine has become a surrogate for her gay neighbors Terry and Greg - a development that pushes staunch Republican Stan right off the deep end. Though Stan plays it perfectly cool on the surface, the moment the baby is born he kidnaps her and races to the Nebraska border. Gay couples have no rights in Nebraska, so the baby should be safe there for the time being. Meanwhile, Steve and Roger become unreasonably paranoid that Klaus is coming for them.More
Air date: Dec 16, 2007
Stan dies on Christmas Eve while trying to find a perfect Christmas tree, then wreaks havoc in heaven (and limbo) trying to return to Earth to save his family -- who were dragged along on his quest -- from freezing to death in the woods.More
Air date: Jan 6, 2008
Stan and Roger have just had a falling out, and Francine is convinced that she can help salvage the pair's failing friendship. Of course what better way to convince Roger that Stan still cares than to arrange a fake kidnapping? When Stan fails to show up at the drop point to pay Roger's ransom, the curmudgeonly alien suddenly realizes that he might start treating his friends with a bit more respect.More
Air date: Jan 13, 2008
The entire family is suddenly transformed into characters from a James Bond-like spy spoof. Tearjerker (played by Roger) is a diabolical movie producer whose films possess the power to kill. If he can only lure enough celebrities to his spa - where he kills them and replaces them with look-a-like robots - he can finally make his dream film, "Oscar's Gold." If completed, "Oscar's Gold" will cause viewers to cry until they eventually die. But Stan isn't about to let the movie-going masses sob themselves to death, and he's convinced he can stop Tearjerker before it's too late.More
Tv Season Info
Season 3 of the animated misadventures of CIA operative Stan Smith and his family kicks off with Francine demanding that Stan take the family on a vacation after she learns all of their previous vacations never actually happened: The CIA had planted artificial memories of the "vacations" in their brains so Stan could ditch them. Other notable outings feature Stan praying for a friend and having one provided: a guy named Brett (voice of Jay Thomas) who's like him in every way but one---he's an atheist. So Stan has some evangelizing to do; and with Francine out of town, Roger takes the opportunity to host spring break at the Smith house for visiting college students, one of whom becomes the straying Stan's "spring-break buddy." … More
| | |
| --- | --- |
| Genre: | Animation |
| Network: | FOX (seasons 1-10); TBS |
Cast
News & Interviews for American Dad!: Season 3
Friend Ratings for American Dad!: Season 3
No Friends? Inconceivable! Log in to see what your friends have to say.
Login
There are no critic reviews yet for American Dad!: Season 3. Keep checking Rotten Tomatoes for updates!
Audience Reviews for American Dad!: Season 3
There are no featured audience reviews yet. Click the link below to see what others say about American Dad!: Season 3!
Discussion Forum
Discuss American Dad! on our TV talk forum!
News & Features