American Dad!: Season 5
(2009-2010)
SEASON: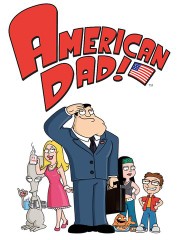 AUDIENCE SCORE
Critic Consensus: No consensus yet.
Episodes
Air date: Sep 27, 2009
When Steve is selected to sing the national anthem at the Langley Falls Veterans' Day celebration, he gets some heat from Stan who doesn't think he's ready for such an undertaking. Unimpressed with Steve's vocal talents, Stan decides Steve needs to experience real war in order to sing about our country's military prowess. But things quickly go south when Roger gets involved and Steve goes bananas.More
Air date: Oct 4, 2009
Stan has to convince the dictator of Isla Island to sign a treaty in order to get a promotion at work. When Stan meets the general and accidentally kills him, he gets Roger to pose as the leader of the small island nation. However, Roger takes his persona too far and Stan has to rescue him from an impending revolution. Meanwhile, Steve and Snot become competitive to see who can get farther with the other's mom.More
Air date: Oct 11, 2009
Steve is left home alone when the family takes a trip to look at a potential college for Hayley. When his friends arrive and realize he has the run of the house, they persuade Steve to break the rules. They're soon in over their heads when they discover that what they thought was a video game is actually a military controlled drone. As they attempt to cover their tracks, Roger has a meltdown that keeps the family from making their trip. Stan returns to find that Steve has betrayed his trust and thrust them into a high-level security situation.More
Air date: Oct 18, 2009
When Hayley and Steve leave for their respective summers of fun, Francine looks forward to her newfound alone time with Stan. There's only one problem: Roger is still living in the attic fighting for every second of attention he can get. When Francine teaches Roger to be self-sufficient, he finally gets a place of his own. Stan fears that he will bore Francine into leaving him and cooks up a scheme to bring Roger back to the house and liven things up. Meanwhile at camp, Steve and his pals fall prey to a scheme that doesn't quite have the effect they were hoping for.More
Air date: Nov 8, 2009
Stan nearly ruins Steve's birthday party by demanding that Steve act his own age, but Francine saves the day by getting the moonbounce Steve has always wanted. When Stan reluctantly joins in the fun, he comes to realize he never had the chance to be a kid. When Stan has a run-in with local law enforcement, the father-son roles are reversed, forcing Steve to become the man of the house. Meanwhile, Klaus tries to re-capture the feeling of having a human body by getting a haircut.More
Air date: Nov 15, 2009
Stan and Francine are set to renew their wedding vows until Stan reveals he only married Francine for her looks. Furious with Stan, Francine "lets herself go" to see if Stan actually loves the woman he's been married to for 20 years. Meanwhile, Steve and Hayley search for the perfect wedding gift.More
Air date: Nov 22, 2009
When Hayley goes to a My Morning Jacket concert against Stan's wishes, he crashes the show to bring her back home, but when he hears their music for the first time, it calls to him and he's smitten. Stan becomes obsessed with the band and decides to follow them on the road as a groupie.More
Air date: Nov 29, 2009
Upset that Hayley no longer wants his advice, Stan decides to prove that she is missing out on his sage counseling. After meeting a stripper on an important CIA mission, Stan takes it upon himself to improve her life and show Hayley that his advice works. But when he opens a new business, hoping to prove Hayley wrong, he finds himself dancing for cash to cover up his failures.More
Air date: Dec 13, 2009
When the Smith family goes to church on Christmas Day, Stan is furious when he can't get a good seat. While Francine tries to ease his frustration, a moment of divine intervention occurs. Upset that he has been left on earth with Francine during the ultimate fight between good and evil, Stan ditches his wife to get into the pearly gates of heaven, but when Francine is kidnapped, Stan fights to get her back.More
Air date: Jan 3, 2010
When Francine demands that Stan get rid of his gas-guzzling SUV because it's draining the family of money, he hatches a plan with Roger at the local horse track to avoid giving up his ride. Meanwhile, it's up to Steve and his friends to help out an old friend.More
Show More Episodes
Tv Season Info
Season 5 was a star-spangled banner campaign for CIA operative Stan Smith and his family and got off in appropriate style. In the first episode, Steve is chosen to sing the national anthem at the Langley Falls Veterans' Day celebration, but Stan doesn't think he's ready for it, and feels that Steve must experience real war first, like the one Stan experienced in Vietnam. In other exceptional outings, Stan crashes a My Morning Jacket concert to drag Hayley out of it and discovers that he likes the band---so much so that he becomes a groupie and goes out on the road with them. Band members have voice cameos; and Roger decides to turn his life around following a birthday-party roast that hits a bit too close to home. But his efforts to do so go too far, and the Smith family must go on the run. … More
| | |
| --- | --- |
| Genre: | Animation |
| Network: | FOX (seasons 1-10); TBS |
News & Interviews for American Dad!: Season 5
Friend Ratings for American Dad!: Season 5
No Friends? Inconceivable! Log in to see what your friends have to say.
Login
There are no critic reviews yet for American Dad!: Season 5. Keep checking Rotten Tomatoes for updates!
Audience Reviews for American Dad!: Season 5
There are no featured audience reviews yet. Click the link below to see what others say about American Dad!: Season 5!
Discussion Forum
Discuss American Dad! on our TV talk forum!