American Horror Story: Asylum
(2012-2013)
SEASON: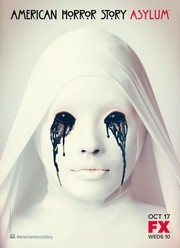 TOMATOMETER
AUDIENCE SCORE
Critic Consensus: American Horror Story: Asylum crosses boundaries to shock and scare with sexy subplots and some innovative takes on current social issues.
Episodes
Air date: Oct 17, 2012
In 1964, the notorious serial killer Boody Face is committed to the sanitarium Briarcliff Manor. Reporter Lana Walker arrives to interview the asylum's head nun, Sister Jude, but is secretly hoping for a story on Bloody Face.More
Air date: Oct 24, 2012
Lana plans an escape from Briarcliff, and enlists Grace's help. Meanwhile, Bloody Face's court-appointed psychiatrist, Dr Thredson, arrives... and finds himself involved in an exorcism that goes terribly wrong.More
Air date: Oct 31, 2012
As a Nor'easter storm approaches, a strangely transformed Sister Mary Eunice sows discontent, and worse. As Dr Arden's strange experiments on Kit continue, another escape attempt is hatched, and Dr Thresdon makes a terrible discovery.More
Air date: Nov 7, 2012
A woman is brought to Briarcliff who believes herself to be Holocaust victim Anne Frank. Meanwhile, Dr Thredson offers to help both Lana and Kit, and detectives arrive at Briarcliff... but who are they investigating?More
Air date: Nov 14, 2012
Ryan Murphy's American Horror Story Asylum continues.More
Air date: Nov 21, 2012
A sinister, murderous child is brought to Briarcliff. Meanwhile, Lana struggles to escape from her new predicament, we learn the history of Dr Arden and Monsignor Timothy's collaboration, and we delve in to the childhoods of Dr Thredson and Sister Mary Eunice.More
Air date: Nov 28, 2012
A terrifying being is summoned - one that even the possessed Sister Mary Eunice is scared of. As Kit and Lana resort to desperate measures, a despairing Sister Jude finds she can no longer run from her past.More
Air date: Dec 5, 2012
A killer who dresses as Santa Claus is an inmate at Briarcliff. As Sister Mary Eunice organises a Christmas party, Sister Jude returns to confront her... but Sister Mary Eunice thinks it's time for 'Santa' to come out and play.More
Air date: Dec 12, 2012
Lana finds herself in another desperate situation. Meanwhile, Sister Jude is framed for murder, and Dr Arden approaches Kit with a bizarre proposition.More
Air date: Jan 2, 2013
The Monsignor resolves to help Sister Mary Eunice battle the Devil within, while the now-powerless Jude is punished severely by the possessed nun. As Dr Arden brings his experiments to a shocking end, Lana and Kit find themselves at Thredson's mercy once more.More
Show More Episodes
American Horror Story: Asylum Trailers & Photos
Tv Season Info
The horror unfolds within the confines of an eerie insane asylum in the second series of this acclaimed thriller. Set in 1964 (with jumps to present day), the "Asylum" series digs into the dark pasts of the hospital's patients, doctors and administrators. Jessica Lange returns to the series as Sister Jude, a troubled nun who quickly finds herself at odds with the twisted Arthur Arden (James Cromwell), a doctor with a penchant for experimental procedures. Zachary Quinto is also back as Dr Oliver Thredson, a psychiatrist, while Sarah Paulson plays journalist Lana Winters in her return. Other familiar faces include Evan Peters and Lily Rabe, while newcomers Lizzie Brocheré, Chloe Sevigny and Joseph Fiennes provide welcome additions to the cast. … More
News & Interviews for American Horror Story: Asylum
Friend Ratings for American Horror Story: Asylum
No Friends? Inconceivable! Log in to see what your friends have to say.
Login
Audience Reviews for American Horror Story: Asylum