American Dad!: Season 1
(2005 - 2006)
SEASON: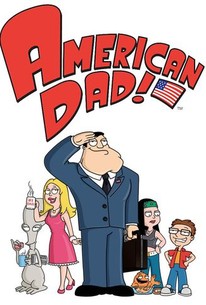 Rate And Review
American Dad!: Season 1 Photos
Tv Season Info
This animated series made its debut after the 2005 Super Bowl, and it may not have bowled viewers over like co-creator Seth MacFarlane's "The Family Guy," but it sure scored plenty of comedic points with adult-oriented cartoon fans. The show chronicles the misadventures of gung-ho CIA agent Stan Smith (voice of MacFarlane), and his suburban family, which includes a hippie teen daughter and a geeky teen son. The zany supporting cast includes a randy pet goldfish named Klaus, who was once an East German spy, and an extraterrestrial named Roger. Memorable episodes from the inaugural campaign saw Stan dealing with new neighbors who are Iranian, and whom he suspects are terrorists, and the Smiths mistakenly thinking that a comatose Roger is actually dead, so they get rid of his body.
All Critics (3) | Top Critics (1) | Fresh (3) | Rotten (0)
Oft-dismissed as Family Guy's lesser sibling - or, as The Simpsons put it, a "plagiarismo di plagiarismo" - this season is arguably better than either Seth MacFarlane's first attempt or recent seasons from America's first family.
Issues like patriotism, generational divide, political activism, and traditional gender roles are addressed here, all with more fantasy than reality, but enough of the latter to touch a nerve with some grown-ups.
When it's on, and it usually is, the show's stories are extremely strong, engrossing, and hilarious. It only comes down to wading through the weaker couple episodes to get to the good ones.
Audience Reviews for American Dad!: Season 1
Pretty great start to an awesome series!

Normally I don't review shows that don't have a consensus to go with their Tomatometer but since American Dad! takes place in the same universe as Family Guy, I think this counts as loophole abuse of some sort. American Dad!, like most shows, takes a while to find its feet but it eventually becomes a laugh riot that manages to distance itself from Family Guy without feeling completely disconnected, even with the lack of cutaway gags being something I didn't like at first.

Such a great show. And I hate that Family Guy is so overrated, and this show rarely gets the recognition it deserves. It will always be smarter, and funnier

Uneven start but it's still better than Family Guy has ever been.

The First season of American Dad introduces the audience to its main, extremely likable characters and opens us up to a new sense of humor that is, at times, dumb but always clever.

This Show Is Absolutely Hilarious!

This show is better then the cleveland show I mean I laughed at this show more then the cleveland show.

Not a fan of this show at all!