Arrow: Season 4
(2015-2016)
SEASON: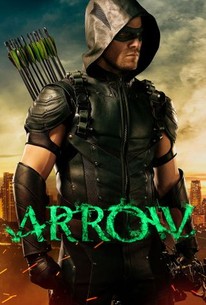 Tv Season Info
The series 4 adventures of Arrow continue as the evil Damien Darhk leads assassinations against Star City and H.I.VE plans to take out Team Arrow once and for all. Tensions continue to build between Oliver and Diggle, which causes disruption and in the team and potentially puts their lives in danger.
News & Interviews for Arrow: Season 4
Audience Reviews for Arrow: Season 4
Season 4, at its beginning, seemed to assure fans that what they didn't like about its third season had been fixed. This is promptly dropped and Season 4 continues to be as bad as its predecessor was.
½
Oliver Queen faces his most powerful nemesis yet in Season 4 of Arrow. When Star City comes under attack by a criminal organization led by a former member of the League of Assassins named Damien Darhk, Oliver Queen returns, rebranding himself as the new vigilante Green Arrow; and in his civilian life he becomes engaged to his girlfriend Felicity Smoak and makes a run for mayor. Additionally, a major character is killed off, which is teased throughout the season through a series of flash-forwards. And, some new DC characters are brought into the series, including Constantine and Vixen. However, the introduction of magic is problematic; though Neal McDonough does an excellent job playing Damien Darhk and brings a lot to the role. After four seasons Arrow is beginning to wear a little thin and returns to the well a bit too often, yet there's still some life left to the series as it continues to deliver thrilling action and exciting plot turns.
½
Since we last left our heroes, everything has changed. Team Arrow have lost two of their core members; their home have been renamed Star City; and a new and evil group have attacked their city. Once again, we go into that dark beginning that we also got in season three, but not as dark. There is no character dying in the first episode this time around. We get the addition of Neal McDonough as Damien Darhk who were heavily teased during the last season and he is incredible. He plays this role so well. He plays this character as a very dark (no pun intended) and evil man, yet still a caring and loving father who just wants to make this world a better place for his family. His ways to do that, however, may not be the most reasonable. Oliver Queen finally throws aside his former alter-ego and takes on the name of the Green Arrow and that is something that I have been wanting to see ever since the show started back in 2012. The performances are great once again, especially John Barrowman and Paul Blackthorne who should really be considered the "veteran" actors of the show so far. They both give emotional performances when it's needed. The thing that bothered me this time around was the great amount of filler episodes that could have easily been thrown aside. I didn't enjoy those episodes, but when the show focused on the main storylines, they are really making magic. This is of course the season where we lose Laurel Lance and someone would say that it was about time, but I was actually kind of sad to let Katie Cassidy go. I hope she finds something else to do. This was a very good season that could have been better if they had focused on the main story.
Discussion Forum
Discuss Arrow on our TV talk forum!