Bates Motel: Season 3
(2015)
SEASON: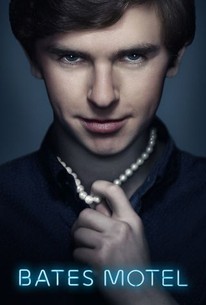 TOMATOMETER
AUDIENCE SCORE
Critic Consensus: Bates Motel further blurs lines around TV's creepiest taboo mother/son relationship, uncomfortably darkening its already fascinating tone.
Bates Motel: Season 3 Photos
Tv Season Info
Series 3 opens with Norman, now a high school senior starting his first day, hallucinating about Miss Watson, the teacher he previously killed. Because of this, Norma decides to homeschool Norman. Dylan confronts Norma about letting Norman sleep in her bed, and, as a result, she sets some boundaries with Norman.
News & Interviews for Bates Motel: Season 3
Audience Reviews for Bates Motel: Season 3
½
When it comes to television shows making it past their first couple of seasons, it goes without saying that the quality of the show is either fantastic, or the fan base remains, regardless of the ratings. For Bates Motel, season three is yet another season that improves on its predecessors, solidifying that this is a show that gets better with age and much more mature as the seasons progress. Usually a show's third season is where things either begin to die out and become boring or just dives into deeper and more brutal material. The third season of Bates Motel is definitely the latter of that statement. Here is why the third season of Bates Motel continues the prequel series in an incredibly satisfying manor. SPOILERS TO FOLLOW. Throughout the first and second seasons, Bates Motel has been known to shock its audience with a twist every now and then, as well as creep them out in a big way. Season three ups the anti as far as the creepiness factor goes, having Norman wear Norma's clothes when she is not around and having visions of his mother in a much more sexual manor than ever before. For some viewers, this may be slightly more than what they bargained for when getting into this show, but if you have seen the film Psycho, you should know that the story is just going to become more messed up and twisted from here on out. If this show does one thing well, it's keeping the audience creeped out 24/7. When characters are explored and shown in a new light, it brings much more suspense to the story at hand. Dylan and Emma are two of the best characters on the show when they are given their moments to shine. Having said that, they have never had that much screen time together until this season, and seeing Emma drift away from Norman, to become infatuated with his brother Dylan, all while Dylan is trying to come to terms with the fact that his father is his mother's brother, is even more of a shocking twist. Her shy personality gleams off the screen and his portrayal of the badass, good-hearted accident-child is more than worth your time. Their chemistry has become my favourite portion of the show throughout this season. Although this season is trying to move the story forward at a very rapid rate, there are some very key episodes that return to past storylines, bringing in certain characters that have been absent for quite some time. Yes, there will be an eventual tie-in to the classic film when the show concludes, but that is still a couple of seasons away. There is quite a bit of room for exploring the past, having characters re-appear, and building up more secrecy, along with exciting twists. This is the darkest we have seen the character of Norman yet, and even though I know where his character will be in the future, I can't wait to see how he gets himself to that point. There are two seasons left. Let's see what they have in store. Bates Motel is the type of show that should have worked as a mini-series, but has somehow made itself into a five season television show that everyone loves. It is very rare that a product from the past is revisited for this long and doesn't run out of steam. Vera Farmiga and Freddie Highmore continue to to be remarkable together on-screen as mother and son, but the inevitable future will come that will tear them apart. I love where this show is headed. In the past seasons, the side-plot about Dylan and the drug business bugged me, because it felt like filler, but they have somehow managed to build a relationship with his father and Emma around it, making it just as interesting as anything else this show has to offer. There are a few slow episodes, but I couldn't find much to complain about throughout this season. Fantastic primetime television.
Season 3 sees Norman descend into madness while Norma tries to solve a new mystery. Lies are found out and lives are ended. The acting was still great but I did not enjoy the main mystery this season.
Discussion Forum
Discuss Bates Motel on our TV talk forum!