Exodus
EPISODE: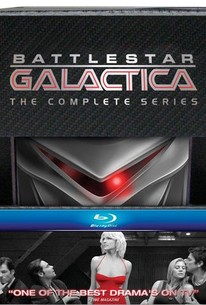 TOMATOMETER
Tomatometer Not Available...
Critic Consensus: No consensus yet.
Episode Info
Part one of the two-part story arc "Exodus" gets underway as Sharon and her crew successfully deflect a surprise attack by the Cylons and Tyrol stages a daring mission to rescue a group of suspected insurgents from the Cylon firing squad. While these two events indeed provide the human population with a newfound sense of hope, uncertainty lingers over human and android alike as President Baltar hears his Cylon overlords pondering the prospect of simply nuking the colony and abandoning plans to live peacefully with humans. Meanwhile, as the insurgents learn of Ellen Tigh's complicity with the Cylons, Kara Thrace embraces her new role as a mother and Cylon D'Anna becomes convinced that her child is still alive. Back on the Galactica , everyone says their goodbyes as Admiral Adama prepares for his dangerous rescue mission to New Caprica. Should the insurgents on New Caprica prove successful in their plans to launch a massive attack in tandem with the rescue mission, perhaps the crews of the Galactica and the Pegasus will be able to meet up and celebrate their success as planned. But in order for the mission to truly succeed, Sharon must first mix among the Cylons in a daring bid to obtain the launch keys for the grounded Colonial ships that will carry the humans to safety.
Discussion Forum
Discuss Battlestar Galactica on our TV talk forum!