Black Box: Season 1
(2014)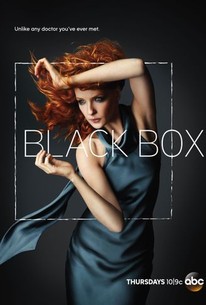 Rate And Review
Black Box: Season 1 Photos
Audience Reviews for Black Box: Season 1
One thing I like about the series is the crossover of neurology, neurosurgery, and psychiatry. Too bad it's now cancelled.

Honestly, this show was absolutely outstanding. I feel that it was truly ahead of its time. The only thing that brought it down was how cerebral it was. There was always a lot to think about after every episode, so much so that it could overwhelm its audience. But the casting and writing was so smart and well executed, no one was to blame for the demise of the show other than the audience.

absolutely amazing!! must have a season 2!!!

Love love love this show. Excellent storyline, great acting and a drama that grabs you and doesn't let go. Excellent fresh spin on a medical drama. Hope there is a season 2

One of those shows on tv that thinks its smart, edgy and relevant when in fact it's soo not. The mental "cases" are just an exercise in mental illness cliches, over acting, people screaming and throwing things at walls, pushing over tables and some bad melodrama nonsense. For a show centered around "the brain" it doesn't have a single thought in its head.

Great show! Keeps me on my toes!

One of the more intelligent shows on TV. I keep rooting for Catherine, (Rotten Tomatoes you need to fix your typo) even though she insists on living on the edge of a cliff. That's the fun of it.

Well written, directed, acted and set in the perfect location (NYC), this is not a "House" replacement but in certain moments comes close to it - when the writers trust their main character and allow her to act our her "syndrome". I hope they let her "forget" her pills again and allow the show to be wild, as it so refrishingly was in the first two episodes. Great potential - more courage please!

This is my first time reviewing a TV show on rotten tomatoes and what not better way to start it off by reviewing the new ABC medical drama Black Box,which is a real weird show if you ask me but let's get down to it. Black Box stars such great talents as Laura Fraser,Vanessa Redgrave,and such others. Though with a title called Black Box you would expect it to be a horror TV show right.well no it's actually about a neuroscientist who has a mental illness. The big problem I have with this shown is that it uses mental illness cliches a lot of the time instead of being an actual story. Also it's main character is kind of a dull lead. Other characters don't help either to ratain itls problems. Black Box's story is so weak it can't even describe it's characters really well either. But the one good thing about this show is that it's cast is trying to do there hardest to make you realize what struggle there character is in. I also liked this one part where I think her head blew up because of such low prices In the grocery store but then again I could be wrong but who knows. So at the end of it, Black Box has a strong cast and a lot of moments were I laughed. But other then that, Black Box has so many illness cliches and a bland main character and a terribly told story. Next time I will share my thoughts on the new CBS sitcom Bad Teacher. But first I'll review the movie tonight probably.so bye and happy memorial day.

Even one star is one too many. I can't believe it wasn't cancelled after the first episode. Total waste of time.