Never Kill a Boy on the First Date
EPISODE: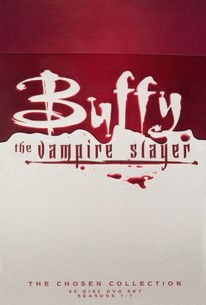 Episode Info
Episode five of the series finds the Master (Mark Metcalf) attempting to fulfill another prophecy. This time, an Anointed One will be turned into a vampire and become the Master's frontline weapon against the Slayer. In the meantime, the Master sends the Order of Aurelius -- special warrior vampires -- to kill Buffy (Sarah Michelle Gellar). She subsequently kills one them, and in reporting the incident to Giles (Anthony Stewart Head), learns of the prophecy. While Giles attempts to determine the identity of the Anointed One, Buffy attempts to have a date with Owen Thurman (Christopher Wiehl), a sensitive, good-looking student who likes the poetry of Emily Dickinson -- because it's so morbid. The date is interrupted halfway due to the pressing issue of having to save Giles from some vampires at a funeral home, where he went in search of the Anointed One. In coming to Giles' rescue, Buffy fights a large vampire spouting prophecy-like rhetoric, and she assumes that he's the Anointed One. The upside is that Owen, jazzed by their violent date, can't get enough of Buffy. The downside is that Buffy, realizing the danger she put him in, has to break up with him. Unbeknownst to Buffy and Giles, the Master has actually anointed a young boy and taken him into the catacombs below Sunnydale.
Never Kill a Boy on the First Date Photos
Discussion Forum
Discuss Buffy the Vampire Slayer on our TV talk forum!