Bargaining (Episode 1)
EPISODE: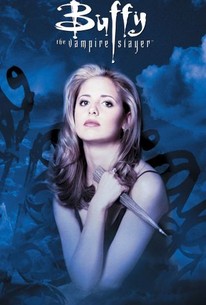 Episode Info
Months after the death of the titular vampire slayer (see "The Gift"), her friends finally seem to be adjusting to life after Buffy (Sarah Michelle Gellar). Willow (Alyson Hannigan) and Tara (Amber Benson) are living with and caring for Dawn (Michelle Trachtenberg). Spike (James Marsters), Xander (Nicholas Brendon), and the others are carrying out routine patrol duty with assistance from the Buffy-bot, whose presence gives the illusion that the Slayer is still alive. Anya (Emma Caulfield) works at the magic shop and longs for Giles (Anthony Stewart Head) to return to England and leave her in charge. Buffy's former watcher finally departs on the very day that Willow finishes her secret preparations to resurrect Buffy. Xander expresses misgivings about this supernatural enterprise, but his Wiccan friend convinces him that Buffy may be suffering unspeakably in some unknown hell dimension. Joined by the Scoobies in the woods outside town, Willow calls on the darkest of magicks to implore the god Osiris to bring back her friend. Unfortunately, at that very moment, a demon biker gang arrives, having bested the Buffy-bot in combat and learned that it isn't really the Slayer. Willow's spell thus disrupted, she and her devastated friends flee, convinced that their chance to bring Buffy back has been wasted. Six feet under a nearby tombstone, however, Buffy's decomposing corpse suddenly reanimates. Originally broadcast October 2, 2001, on the UPN network, "Bargaining, Part 1" marked episode 101 of the cult-favorite series. A new beginning in more ways than one, this resurrection-themed episode also marked the program's move to UPN from the rival WB network. It was originally shown in a two-hour block with "Bargaining, Part 2."
Discussion Forum
Discuss Buffy the Vampire Slayer on our TV talk forum!