Once More, with Feeling
EPISODE: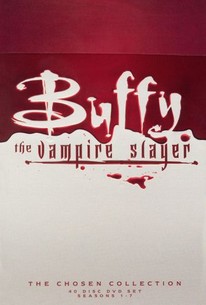 Episode Info
Buffy (Sarah Michelle Gellar) and the gang find themselves singing out their feelings in this musical episode of Buffy the Vampire Slayer. The weirdness begins when Buffy interrupts her patrol to sing about post-resurrection angst. The next day, she learns that all of Sunnydale has become a great big Broadway musical. She and her friends float out various theories, but it turns out a musical demon named Sweet (Hinton Battle) has cast a nefarious spell over the town. As the enchantment forces various unfortunates to sing and dance until they burst into flames, the main characters find themselves expressing their deepest emotions. Tara (Amber Benson) sings a tender love song to Willow (Alyson Hannigan). Xander (Nicholas Brendon) and Anya (Emma Caulfield) share a comical duet about their marriage misgivings. Spike (James Marsters) belts out a heavy metal number about his love/hate relationship with Buffy. Giles (Anthony Stewart Head) croons pensively about Buffy's need for independence. And Dawn (Michelle Trachtenberg) dances a ballet of loneliness. Dawn also accidentally reveals that Willow cast a spell of forgetfulness over Tara (see "All the Way"). Soon, Tara and Giles are harmonizing about the need to leave Willow and Buffy for their own good. Just when it seems that these tangled emotions will cause the Scoobies to combust, however, Sweet arrives to make Dawn his underworld bride. While rescuing her sister, Buffy reveals the truth she's been hiding from her friends -- when they brought her back to life, they wrenched her not from Hell, but from Heaven. The anguished Slayer then almost dances herself into fiery oblivion -- until Spike intercedes and begs her to live. Once Sweet is vanquished, the entire cast sings an uncertain song about what the future may hold. Then Spike and the Slayer sneak out and share an unexpected kiss. Originally broadcast November 6, 2001, on UPN, "Once More, With Feeling" marked episode 107 of the cult-favorite series. Several minutes longer than a typical hour-long Buffy episode, the musical had to be trimmed for subsequent airings and syndication. A cast album was also released.
News & Interviews for Once More, with Feeling
Once More, with Feeling Photos
Discussion Forum
Discuss Buffy the Vampire Slayer on our TV talk forum!