Burn Notice: Season 1
(2007)
SEASON: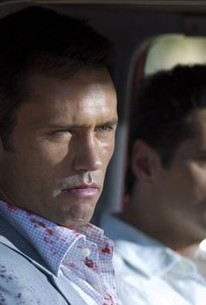 Burn Notice: Season 1 Photos
Tv Season Info
The first series of this sleek spy series mixes plenty of action with sex appeal and a dose of wry humor. While on a covert mission in Nigeria, spy Michael Westen (Jeffrey Donovan) discovers he's been burned, which equates to being fired in the world of espionage. After escaping the immediate danger of his assignment, he wakes up in Miami with no memory of how he got there and discovers his accounts have been frozen and his contacts cut off. Forced to fend for himself, Michael recruits the help of the only friends he has: Sam Axe (Bruce Campbell), a former intelligence contact whom the FBI has tapped to gain intel on Michael; Fiona Glenanne (Gabrielle Anwar), a spunky ex-IRA operative looking for closure after being dumped by Michael several years earlier; and Michael's meddling mother Madeline (Sharon Gless), who's thrilled to have her son back in her life. Despite the often uneasy state of these alliances, Sam, Fiona and Madeline each bring their own skills to the table to help Michael find out who burned him and why. In order to fund his investigation---not to mention more mundane expenses like rent---Michael picks up a side job as a private investigator helping Miami citizens obtain justice. Each episode chronicles a different case, opening the way for notable guest stars like Lucy Lawless ("Xena: Warrior Princess") and Richard Schiff ("West Wing"). But Michael's main goal throughout the season is following the convoluted trail of betrayals and double-dealings that led to his burn notice.
Audience Reviews for Burn Notice: Season 1
From USA comes the thrilling spy series Burn Notice. In Season 1 CIA spy Michael Westen is burned (cut off and disavowed) and is forced to return home to Miami, where he precedes to try to uncover who burned him and get his job back. But in the meantime, he takes odd jobs helping people with his ex-girlfriend Fiona and retired Navy friend Sam Axe. Starring Jeffrey Donovan, Gabrielle Anwar, and Bruce Campbell, the cast is really good and balances the action and comedy especially well. And the writing does an excellent job at using voice over narration; with Michael giving spy tips and explaining the spy trade throughout the episodes. The show also does an impressive job at building an over-arching story for the season while keeping each episode a case-of-the-week, and the actions scenes are incredibly exciting and fun. Additionally, a number of notable guest stars are featured; including David Zayas, Mark Pellegrino, Ray Wise, Lucy Lawless, and Trica Helfer. One of the best shows on television, Burn Notice delivers a remarkable first season and promises to get even better in the next.
Discussion Forum
Discuss Burn Notice on our TV talk forum!