Call Me Francis: Miniseries
(2016)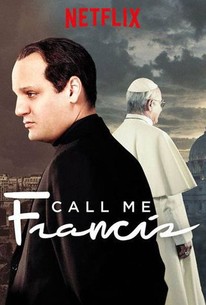 Rate And Review
Tv Season Info
The story of Pope Francis' development as a religious leader during Argentina's Dirty War is chronicled.
News & Interviews for Call Me Francis: Miniseries
All Critics (1) | Top Critics (1) | Fresh (1) | Rotten (0)
Call Me Francis is occasionally much too talky; the direction by the Italian Daniele Luchetti, despite a few dazzling flourishes, is mostly workmanlike. But the charity and soulfulness of the story are considerable.
Audience Reviews for Call Me Francis: Miniseries
This short series reveals much of Pope Francis the Man to help us understand him as pope. It is well Acted with powerful scenes. I most appreciated that it wasnt a "fan Film" to show how great he is but an honest look at compelling momements in his life that show his struggles and moments of Need and despair along with triumphs? that make him the man he is.

Only problem I had as a non Spanish speaker was that the subtitles went sometimes too fast. Resulting in me stopping the movie to rerun a segment, and still after 3times it wasn't clear what was said. This was on the Netflix USA version. One star less because if this.

This was a period I knew a lot about, but now know much more. It comes from the Catholic perspective, which is hardly my own, and I feel more respect for that world view. It did a very good job showing nuances in all directions.

It was a very good history of Fr. Jorgé. It followed well the biographies I have read. I was really moved by many of the scenes especially when he was trying to cope with the dictatorship that sent 30,000 to their deaths. They were "the missing." Jorgé lost very close friends. The sacrifices he made over the years and his deepening understanding of love really drew people to him, and still does today. I don't know if viewers other than Catholics will feel the movie as emotionally as I did.

From a cultural and historical perspective, this is an excellent and authentic bio of a man with a calling in a tumultuous Argentina in the throes of a ruthless military government junta and the attempted return of Juan Peron in the early 70's. The series covers a period of shame that prevailed in Argentina from the 60´s to current term. It tells the story of humble man, committed to Christ and his undeniable calling to help the less fortunate. The savagery of the Guerra Súcia (Dirty War) waged by the military against perceived leftists and some targets of the Catholic Church was devastating in Argentina as well as in several other Latin America countries of the time. Watch in Spanish, (spoken by Argentinians, of course), if you can, with the sub-titles, if you must. A must-see for anyone familiar with the embattled Latin America of the last 50 years where similar military governments took power in countries like Brazil, Chile, Argentina, Uruguay, Paraguay, Peru, etc. It is particularly interesting for anyone who knows Argentinean culture and history and of course has an interest in the current Pope. I am an evangelical Christian (raised formerly in the Catholic faith), born in Chile and am a contemporary of the period and found it absolutely fascinating. Even those of us who disagree with the Catholic Church in Rome, can see the Christian dedication of a man like Jorge Mario Bergoglio (Pope Francis) towards the less fortunate. My wife (also Chilean and raised in Argentina) and I, devoured all 4 episodes in 1 sitting. Excellent acting by all with a careful and rich production on location in various locations of Argentina, the Vatican and Germany.

Very moving, well acted with good tempo. Maybe I should have waited before commenting. I'm still under the very practical kindness of Francis, his simplicity and his love (and I'm not a Catholic). Well worth your time.