Castle: Season 2
(2009-2010)
SEASON: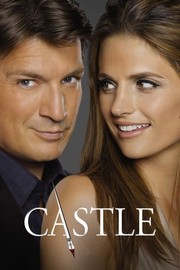 TOMATOMETER
——
Average Episode Score:
N/A
——
Average Episode Score:
N/A
AUDIENCE SCORE
Critic Consensus: No consensus yet.
Episodes
Air date: Sep 21, 2009
A museum curator's death leads Castle and Beckett to a mummy's curse. Castle worries that he may also fall victim to the curse after he peeks at forbidden artifacts.More
Air date: Sep 28, 2009
Two murders occur on the same night, prompting Castle to put his money where his mouth is by betting Ryan and Esposito that he and Beckett can solve their case first. But the two pairs must work together when both cases prove to be confoundingly bizarre.More
Air date: Oct 5, 2009
A young model is savagely murdered during New York City's Fashion Week, and the probe leads Castle and Beckett into the ruthless world of high fashion.More
Air date: Oct 12, 2009
An explorer on a polar expedition is murdered, and the convoluted case turns even more confusing when Castle determines the elusive killer is trying to fool everyone.More
Air date: Oct 19, 2009
Castle contemplates a job opportunity from his agent (Debi Mazar) as he and Beckett investigate what could be their last case together---the murder of a woman found in a manhole.More
Air date: Oct 26, 2009
A dead man wearing vampire teeth is discovered in a graveyard with a stake through his heart. The probe leads Castle and Beckett to a group of vampire fetishists, and clues are revealed in a graphic novel the victim had been writing.More
Air date: Nov 2, 2009
The dead body of a rock star on the rise is discovered staged in a scene from her popular music video. Beckett and Castle's subsequent murder probe involves obsessed fans and envious bandmates, but it's the lyrics from a song that break open the case.More
Air date: Nov 9, 2009
A bike messenger is murdered en route to delivering evidence that could free a man from prison. The case is linked to a murder Capt. Montgomery probed 10 years ago, and a prominent New York family's secrets figure into the investigation.More
Air date: Nov 16, 2009
The investigation into an ADA's murder is threatened by Castle's eagerness to help a call girl involved in the case. Elsewhere, Alexis reveals a major secret to Beckett instead of her father.More
Air date: Nov 23, 2009
A man's body is discovered in an apartment building's garbage chute, and two women surface to identify the deceased---his wife and his fiance Castle and Beckett's investigation uncovers the man's complex double life. DB Woodside guest stars.More
Show More Episodes
Castle: Season 2 Trailers & Photos
Tv Season Info
In the second season of this crime drama, Castle (Nathan Fillion) apologises to Beckett (Stana Katic) for looking into her mother's murder case against her wishes, and their working relationship resumes. Beckett does eventually get a lead in her mother's case, however, she hits a dead end. Castle blames himself for this and offers to end their partnership, but Beckett asks him to stay. The 12th Precinct becomes crowded with Castle family members when Alexis (Molly Quinn) shows up to do volunteer work there as part of a school project. Meanwhile, Beckett finds herself getting jealous when Castle gets close to several women, including his ex-girlfriend (Alyssa Milano), an FBI agent (Dana Delany) and a seductive Hollywood actress (Kelly Carlson). … More
News & Interviews for Castle: Season 2
Friend Ratings for Castle: Season 2
No Friends? Inconceivable! Log in to see what your friends have to say.
Login
Audience Reviews for Castle: Season 2
Discussion Forum
Discuss Castle on our TV talk forum!