Castle: Season 4
(2011-2012)
SEASON: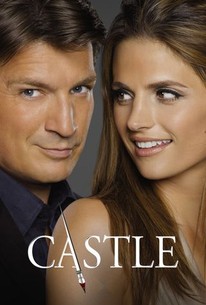 Tv Season Info
In the fourth season of this crime drama, by-the-book captain Victoria Gates (Penny Johns Jerald) takes command of the 12th Precinct, and though she's displeased to have Castle (Nathan Fillion) working alongside her detectives, she finds ways to tolerate him. Beckett (Stana Katic) returns to work after recuperating from being shot, and both she and Castle are determined to find her shooter. Beckett also deals with PTSD, but she tries to hide it from her colleagues. At one point, Castle and Beckett are abducted and handcuffed together, with no memory of how they got into that situation. Meanwhile, Alexis (Molly Quinn) begins an internship assisting Lanie (Tamala Jones) in the Medical Examiner's office; and Ryan (Seamus Dever) finally marries his longtime girlfriend.
All Critics (3) | Top Critics (1) | Fresh (2) | Rotten (1)
I enjoy Castle. It's one of the shows for which I never miss an episode. But the reason I watch it is not because it's a hard-hitting drama that leaves me on the edge of my seat. It's a silly cop show that's a lot of fun...with some great dialogue.
There was definitely a spike in screen time for Ryan and Esposito. Let's hope this continues throughout the season, shall we? If anyone deserves it, it is these two.
I don't watch the show for dark, sprawling conspiracy plot lines and Emmy-bait performances, and the premiere, like last season's finale, just about choked to death on them.
Audience Reviews for Castle: Season 4
Discussion Forum
Discuss Castle on our TV talk forum!