Chuck: Season 2
(2008-2009)
SEASON: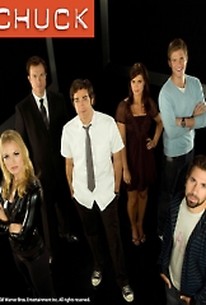 Episodes
Air date: Sep 29, 2008
In the second season premiere, Academy Award® nominee MICHAEL CLARKE DUNCAN ("The Green Mile") guest stars as Colt, a menacing operative. Chuck prevents Colt from obtaining the Cipher, a device that would ultimately lead to a new Intersect. Chuck is told that this successful mission marks the end of his espionage career and the beginning of a normal life. Free from bullets and bombs, Chuck finally asks Sarah out on a real first date. But Chuck's role as the old Intersect is not good news for everyone and Casey deals with a difficult order assigned to him. Meanwhile, at Buy More, Morgan devises an eccentric way to hire a new assistant manager.More
Air date: Oct 6, 2008
Chuck learns the art of seduction from the suave spy Roan Montgomery (JOHN LARROQUETTE) to get close to his target, a sultry but dangerous Black Widow (MELINDA CLARKE).More
Air date: Oct 13, 2008
Chuck is jealous Sarah and Bryce Larkin (recurring guest star MATTHEW BOMER) must pose as a loving couple. And Morgan must deal with a bully (MICHAEL STRAHAN - New York Giants).More
Air date: Oct 20, 2008
Chuck learns more about Sarah's past when they run into her old high school nemesis, Heather Chandler (guest star NICOLE RICHIE), and her husband, Mark (guest star BEN SAVAGE).More
Air date: Oct 27, 2008
The spy life is starting to take its toll and Chuck tries to explain his strange behavior to the quirky Buy More efficiency expert (guest star TONY HALE - "Arrested Development").More
Air date: Nov 10, 2008
Chuck sees his ex-girlfriend, Jill (guest star JORDANA BREWSTER - "The Fast and the Furious"), and lies about being successful. He flashes on Jill's boss -- could she be involved?More
Air date: Nov 17, 2008
Chuck and Jill (JORDANA BREWSTER) are enjoying their rekindled relationship, but Jill gets jealous when she meets Sarah. Efficiency expert Emmett (TONY HALE) interrogates Morgan.More
Air date: Nov 24, 2008
Chuck, Sarah and Casey shockingly learn Chuck's girlfriend, Jill (JORDANA BREWSTER), is a Fulcrum agent in search of the Intersect. Captain Awesome's parents come for Thanksgiving.More
Air date: Dec 1, 2008
Casey is shocked to learn his mentor, sensei Ty Bennett (CARL LUMBLY - "Alias"), is a rogue agent. And MORGAN FAIRCHILD and BRUCE BOXLEITNER guest star as Awesome's parents.More
Air date: Dec 8, 2008
Chuck spies Sarah on a date with an older man (GARY COLE - "Desperate Housewives," "The West Wing"), and has an Intersect flash. Sarah reveals the identity of the mystery man.More
Show More Episodes
Tv Season Info
Instead of working at the Buy More electronics store, Chuck must confront assassins and international terrorists. Assigned to protect him are the National Security Agency's John Casey and Sarah Walker, the CIA's top agent.
Genre:
Action & Adventure
Network:
NBC
Audience Reviews for Chuck: Season 2
There are no featured audience reviews yet. Click the link below to see what others say about Chuck: Season 2!
Discussion Forum
Discuss Chuck on our TV talk forum!