Chuck: Season 4
(2010-2011)
SEASON: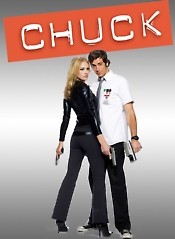 TOMATOMETER
——
Average Episode Score:
N/A
AUDIENCE SCORE
Critic Consensus: No consensus yet.
Episodes
Air date: Sep 20, 2010
In the fourth season premiere, Chuck and Morgan go on a rogue globe-spanning mission to find Chuck's mom. Meanwhile, Sarah and Casey follow a trail to Russia as they investigate the mysterious Volkoff Industries and its operative Marco (guest star DOLPH LUNDGREN The Expendables, Universal Soldier, Rocky IV). Back at home, Ellie delivers big news to her family. Additional guest stars include OLIVIA MUNN (Attack of the Show!, Greek) and HARRY DEAN STANTON (Big Love, Repo Man, Pretty in Pink, The Green Mile).More
Air date: Sep 27, 2010
Chuck and Sarah travel to fashion week in Milan to retrieve a high-tech secret weapon. While they are undercover, Chuck realizes what the "Achilles' heel" is in their relationship, but he must set personal issues aside for the mission. Meanwhile, Morgan recognizes a fatal flaw that compromises the new Buy More. Elsewhere, Casey struggles to put down roots in Burbank. KAROLINA KURKOVA (The Victoria's Secret Fashion Show), LOU FERRIGNO (The Incredible Hulk, The King of Queens), ISAIAH MUSTAFA (upcoming Horrible Bosses, Madaea's Big Happy Family) and BRONSON PINCHOT (Perfect Strangers, Beverly Hills Cop, Step by Step) guest star.More
Air date: Oct 4, 2010
Chuck and Sarah's romantic mission is cancelled with the arrival of Hugo Panzer (guest star STEVE AUSTIN WWF Raw) and Heather Chandler (guest star NICOLE RICHIE The Simple Life). But Chuck grows more interested when the manipulative Heather claims to know a secret about his mom. Meanwhile, as Morgan prepares the Buy More for a huge video game release, he gets a surprise from Big Mike. STACY KIEBLER (WWE Smackdown!, Dancing with the Stars) also guest stars.More
Air date: Oct 11, 2010
Chuck and Sarah work on becoming better communicators as they join Awesome and Ellie for a getaway to Costa Gravas. There, the gang is reunited with Generalissimo Goya (recurring guest star ARMAND ASSANTE Human Target, American Gangster) who, once again, finds himself in a dangerous situation. Back at home, Morgan embarks on a forbidden romance that may put him at odds with Colonel John Casey. Guest star TIA TEXADA (Third Watch, Huge) appears as Hortencia Goya. Recurring guest star MEKENNA MELVIN (Lie to Me, Three Rivers) appears as Alex.More
Air date: Oct 18, 2010
When Colonel Casey's former team returns looking for him, Chuck must decide what he's willing to sacrifice in order to find his mom. Elsewhere, Morgan works up the nerve to reveal a potentially dangerous secret to Casey. Recurring guest star MEKENNA MELVIN appears as Alex. ERIC ROBERTS (The Expendables, Less Than Perfect), JOEL DAVID MOORE (Bones, Avatar, Dodgeball: A True Underdog Story) and DAVE BATISTA (WWF Raw, WWE Smackdown!) also guest star.More
Air date: Oct 25, 2010
When Chuck, Sarah, Casey and Morgan are tasked to stop Dr. Stanley Wheelright (guest star ROBERT ENGLUND A Nightmare on Elm Street, Freddy's Nightmares) from releasing a nightmare-inducing toxin, they're also led to question the allegiances of Chuck's mom (recurring guest star LINDA HAMILTON). Meanwhile, Jeff and Lester use their unique sensibilities to celebrate Halloween at the Buy More, and Ellie and Awesome get a visit from Dr. Honey Woodcomb (recurring guest star MORGAN FAIRCHILD Fashion House, Friends, Falcon Crest).More
Air date: Nov 1, 2010
After their first real fight, Chuck avoids confronting Sarah by going on a rogue mission that leads him to his mom's (recurring guest star LINDA HAMILTON) MI6 handler, Gregory Tuttle (guest star TIMOTHY DALTON License to Kill, The Living Daylights, Jane Eyre), and a mysterious Russian agent (guest star ANA GASTEYER Saturday Night Live). Meanwhile, Ellie is on her own mission to uncover the Bartowski family's long-buried past.More
Air date: Nov 15, 2010
Afraid that his latest setback is driving a wedge between him and Sarah, Chuck resolves to prove himself by going on a dangerous mission with the overeager Agent Rye (guest star ROB RIGGLE The Hangover, Gary Unmarried, Saturday Night Live). Meanwhile, Morgan and Casey scramble as the "Buy Morons" attempt to uncover the true identity of Greta (guest star SUMMER GLAU Terminator: The Sarah Connor Chronicles, Firefly, Serenity). Recurring guest star RICHARD CHAMBERLAIN (The Thorn Birds, Shogun, Dr. Kildare) appears as The Belgian.More
Air date: Nov 22, 2010
Chuck, Sarah, Casey and Morgan venture into the jungles of Southeast Asia when The Belgian (recurring guest star RICHARD CHAMBERLAIN) attempts to unravel the secrets of the Intersect. Meanwhile, Captain Awesome and Ellie try to decipher a secret left behind by her father.More
Air date: Nov 29, 2010
It's the day after Thanksgiving and Chuck faces the most awkward of family reunions when his mom (recurring guest star LINDA HAMILTON) comes over for dinner. At the Buy More, Morgan deals with the busiest shopping day of the year as Jeff and Lester hatch their latest scheme. Elsewhere, Ellie continues to investigate the final clues left to her by her father. Recurring guest star TIMOTHY DALTON appears, as does guest star MONET MAZUR (The House Bunny, TorqueMore
Show More Episodes
Tv Season Info
Get in on the action! With Chuck's new Intersect abilities, he is now fully equipped with deadly fighting skills and ready to face the Ring.
News & Interviews for Chuck: Season 4
Friend Ratings for Chuck: Season 4
No Friends? Inconceivable! Log in to see what your friends have to say.
Login
Audience Reviews for Chuck: Season 4
There are no featured audience reviews yet. Click the link below to see what others say about Chuck: Season 4!