SEASON: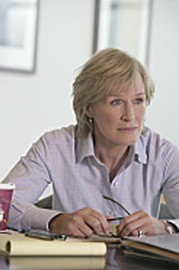 Episodes
Air date: Jul 24, 2007
The premier episode of the FX Network's series concerning powerful New York City litigator Patty Hewes (Glenn Close) opens as the feared attorney agrees to take on a class action lawsuit involving Arthur Frobisher (Ted Danson) - an extremely wealthy CEO who currently stands accused of corruption. As the battle between Hewes and Frobisher quickly turns ugly, the lawyer's ambitions protégé Ellen Parsons (Rose Byrne) quickly discovers that sometimes it takes more than talent and hard work to come out on top.More
Air date: Jul 31, 2007
Ellen's friend Katie is about to take the stand as a key witness in the case against Arthur Frobisher, but as the pressure on the powerful CEO pushes him to consider drastic measures, Patty begins to raise some serious questions regarding Katie's testimony.More
Air date: Aug 7, 2007
Confronted by a mysterious threat, Patty is forced to weigh her resolve in the case against Frobisher as Ellen begins to become aware of just what kind of commitment her new professional endeavor requires. Meanwhile, Patty's trusted advisor Tom discovers some fascinating - and potentially damning - new details about Katie.More
Air date: Aug 14, 2007
As Katie's impending deposition draws near, Patty's team attempts to prepare the fragile young girl for the pressure she'll face when she takes the stand. Meanwhile, Gregory wrestles with how to handle a key piece of evidence that could be crucial to the trial as David and Ellen's relationship becomes complicated by a curious incident at David's work.More
Air date: Aug 21, 2007
As the clients begins to express doubts about Patty's reliability, Frobisher puts pressure on Fiske to be more aggressive with the key witness, and a conflicted Tom seeks out career advice from an outspoken pal.More
Air date: Sep 4, 2007
Patty is eager to discover Gregory's secrets before it's too late, and as she carefully sets about accomplishing her goal Frobisher resorts to some rather unconventional tactics in order to salvage his legacy. In the meantime, David finds his relationship with Ellen tested when Lila makes a sudden and unexpected reappearance.More
Air date: Sep 11, 2007
Gregory Malina's deposition could make or break the Frobisher case, and as Patty attempts to shield him from the opposition Ellen and Tom scheme to keep a key secret from her for fear that she may be manipulating them.More
Air date: Sep 18, 2007
Gregory, a key witness in the Frobisher case, has gone missing. Now, as Patty scrambles to adopt a new strategy, Ellen's parents show up - seemingly out of nowhere - with some particularly troubling news.More
Air date: Sep 25, 2007
Gregory's sudden and inexplicable disappearance has left lawyers on both sides of the Frobisher case struggling to gain the upper hand. But Frobisher's deposition is drawing near, prompting the crafty CEO and his team to resort to a secret weapon. Just as it begins to appear that Frobisher's team has come out on top, however, Ellen makes an important discovery that could alter the course of the entire case.More
Air date: Oct 2, 2007
As Frobisher's deposition gets underway and the fireworks begin to fly, Ellen considers taking a few well-calculated risks that could bring her out of the sidelines, and back in the spotlight.More
Show More Episodes
Tv Season Info
Season 1 of this dense and time-tangled Glenn Close legal thriller begins with a flash-forward: Ellen Parsons (Rose Byrne), a brilliant and, at that moment, very bedraggled Manhattan lawyer, has just discovered the bludgeoned body of her fiancé, medical resident David Connor (Noah Bean). An attempt on Ellen's life is made as well, and both attacks stem from her association with Patty Hewes (Close), a power litigator who uses devilish tactics to fight on the side of angels. Six months prior to David's death, Ellen joins Hewes & Associates to work on a class-action suit brought by former employees of Arthur Frobisher (Ted Danson), a corporate shark whom they accuse of selling his company---and their pensions---out from under them. As it happens, David's sister Katie (Anastasia Griffith), a talented young chef, catered a Frobisher event in Florida the night before he dumped his company's stock. Katie also had a fling that night with waiter Gregory Malina (Peter Facinelli), who is later befriended by Frobisher's lawyer, Ray Fiske (Zeljko Ivanek), whose folksy Southern charm masks demons. As the Frobisher case plays out over the season, Ellen is arrested for David's murder; Patty's loyal No. 2 at the firm, Tom Shayes (Tate Donovan), struggles to emerge from under her shadow; and a number of characters emerge from the shadows, notably "Uncle Pete" McKee (Tom Aldredge), Patty's avuncular Mr. Fix-it (and her actual uncle), George Moore (Peter Riegert), a former SEC official with ties to Frobisher, and freelancing NYPD detective Rick Messer (David Costabile). … More
Network:
FX
Premiere Date:
Jul 24, 2007
Creators:

Glenn Kessler

,

Todd A. Kessler

,

Daniel Zelman

Executive Producers:

Glenn Kessler

,

Todd A. Kessler

,

Daniel Zelman

Producers:

Glenn Kessler

,

Todd A. Kessler

,

Daniel Zelman

,

Mark A. Baker

,

Allen Coulter

,

Lori Jo Nemhauser
News & Interviews for Damages: Season 1
Friend Ratings for Damages: Season 1
No Friends? Inconceivable! Log in to see what your friends have to say.
Login
Audience Reviews for Damages: Season 1
There are no featured audience reviews yet. Click the link below to see what others say about Damages: Season 1!
Discussion Forum
Discuss Damages on our TV talk forum!