The Trial of Jack McCall
EPISODE: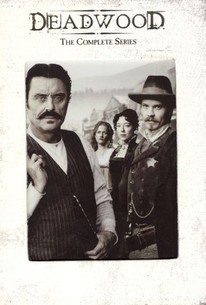 Episode Info
Wild Bill Hickok is dead, and the people of Deadwood prepare to try the man who murdered him, Jack McCall (Garret Dillahunt). Discussing the "hoople-heads," Al (Ian McShane) tells Cy (Powers Boothe), "Sometimes I wish we could just hit 'em over the head, rob 'em, and throw their bodies in the creek." Cy sardonically replies, "But that would be wrong." Al is worried about trying and possibly executing McCall in town, because it might irk some people in Washington to see Deadwood enforcing its own laws. Still, he agrees to hold the trial at the Gem, while making his view of things clear to the judge. Seth (Timothy Olyphant) struggles to keep his anger in check until a verdict comes down. Alma (Molly Parker), upset with Jane (Robin Weigert) for abandoning her while she cares for the girl (Breeseanna Wall), asks E.B. (William Sanderson) to help her find someone to replace Jane. E.B. goes to Al, and, informing him of the widow's laudanum habit, suggests that Trixie (Paula Malcolmson) could help Alma with the child, while encouraging her along in her habits. Cy, worried about Andy (Zach Grenier) scaring or infecting his customers, has him brought out into the woods and left to die, angering Joanie (Kim Dickens). Doc (Brad Dourif) threatens to spread word of smallpox unless Cy sends someone to Fort Kearney to obtain vaccine. Jane finds Andy in the woods. At trial, McCall testifies that Bill murdered his brother sometime back; he's not quite sure when. After Bill's funeral, Reverend Smith (Ray McKinnon) has a seizure.
The Trial of Jack McCall Photos
Discussion Forum
Discuss Deadwood on our TV talk forum!