Something Very Expensive
EPISODE: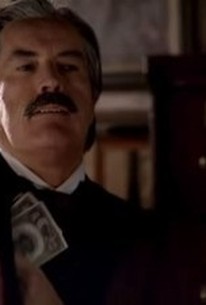 Episode Info
Alma (Molly Parker) proposes the formation of a bank in Deadwood, with Sol (John Hawkes) as chief officer. She also has a bout of morning sickness in the presence of Sol and Ellsworth (Jim Beaver). When Sol reports the news to Seth (Timothy Olyphant), he's less than thrilled. Merrick (Jeffrey Jones) gives a very informative tour of the camp to Mary Stokes (Carla Bianchi), the new schoolteacher. When Ellsworth approaches Trixie (Paula Malcomson) to discuss Alma's predicament, she proposes an interesting solution. Al (Ian McShane), feeling stronger, holds meetings with several prominent people in camp. Trixie tells him about the bank. E.B. (William Sanderson) reluctantly tells him about the apparent partnership between Cy (Powers Boothe), Wolcott (Garret Dillahunt), and Jarry (Stephen Tobolowsky). Miss Isringhausen (Sarah Paulson) tells him the fascinating story of how Alma admitted to hiring Al to kill her husband. Al quickly recognizes that Isringhausen is working for the Pinkerton Agency. They want to pay Al to implicate Alma in Brom's death, after which they'll let him escape with their money. He asks for some time to think about it. Al also meets with Lee (Philip Moon) in an effort to gauge how much "juice" he's got. Steve (Michael Harney), angry at Seth for stopping him from tarring and feathering the innocent Fields (Franklyn Ajaye), plans his own unique form of vengeance involving the sheriff's horse. Jarry is angry at Cy because Cy didn't protect him from the angry mob. Merrick pays a price for his refusal to print Jarry's notice. Cy, perhaps realizing his advantage has slipped a bit, makes insinuations to Wolcott about his reputedly violent dealings with the whores. When Cy threatens to inform Wolcott's employer, George Hearst, Wolcott is provoked to take drastic action.
Something Very Expensive Photos
Discussion Forum
Discuss Deadwood on our TV talk forum!