Advances, None Miraculous
EPISODE: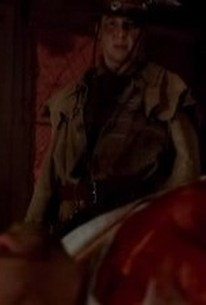 Episode Info
William (Josh Eriksson) has been critically injured by Fields' (Franklyn Ajaye) horse. Martha (Anna Gunn) regrets bringing William to Deadwood, and wants to bring him back to Michigan. Doc (Brad Dourif) privately notes that if the hoof had come down an inch to the right, the boy, mercifully, would have died instantly. "I doubt He's omniscient," Doc laments. "I know He's myopic." Fields has to convince Hostetler (Richard Gant) not to kill himself. They leave town, Hostetler insisting that they track down the horse and return with it. Without Seth's (Timothy Olyphant) presence for protection, Miss Isringhausen (Sarah Paulson) refuses to sign Al's (Ian McShane) incriminating documents. Al gets Silas (Titus Welliver) to help him persuade her. Al learns from Merrick (Jeffrey Jones) that Jarry (Stephen Tobolowsky) is returning to the camp, probably in response to Al's planted article in the Pioneer about Seth's "rumored" contacts with Montana. Al summons Sol (John Hawkes) to school Silas about Montana politics, in order to convince Jarry that the camp is in play. Sol objects to being summoned, as he stands vigil outside Doc's, but Dan (W. Earl Brown) threatens to carry him across the thoroughfare if he doesn't come peacefully. Sol is further dismayed to find that Trixie (Paula Malcomson), in her grief, has returned to the Gem. Mose (Pruitt Taylor Vince), critically wounded by Cy's men, is brought to the Chez Amis to recuperate. A reformed Andy Cramed (Zach Grenier) returns to the camp, having become a preacher. Cy (Powers Boothe) explains to the worried Jarry that the article in the Pioneer was Al's concoction, but Jarry won't listen. "Doesn't take much, does it," Cy asks the commissioner, "to get your balls tucked up?" "They are very sensitive to changes in weather," Jarry responds, pointedly. "You feel one coming on?"
Advances, None Miraculous Photos
Discussion Forum
Discuss Deadwood on our TV talk forum!