Listen to the Rain on the Roof
EPISODE: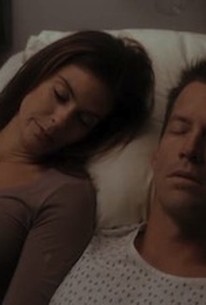 Episode Info
Season 3 of ABC's hit primetime drama Desperate Housewives gets underway with Mike (James Denton) still in a coma after being hit by a car six months ago, and Susan (Teri Hatcher) holding out hope that he will soon snap out of it and make a full recovery. Later, Susan enters into a tenuous relationship with fellow hospital regular Ian, whose wife Jane has been in a coma for three years and who seems interested in something more than friendship with the grieving Susan. Meanwhile, Tom (Doug Savant) longs to include his love child Kayla in various family activities, which causes more than a little controversy in the Scavo household. The situation is later compounded when Lynette (Felicity Huffman) invites Kayla to Parker's birthday party under false pretenses, and Lynette mush rush to cover up the event. Regardless, Lynette's deception eventually blows up in her face when Nora shows up at the house and discovers the truth. With Carlos (Ricardo Chavira) and Gabrielle (Eva Longoria)'s divorce in the works, the soon to be ex-wife becomes fed up dealing with the pregnant Xiao Mei, and a flashback reveals the truth behind Oscar and Alma's split. Of course it doesn't take long for Oscar to bounce back, and he's soon proposing to the very hesitant Bree - who is still recovering from the recent death of her former husband Rex.
Discussion Forum
Discuss Desperate Housewives on our TV talk forum!