SEASON: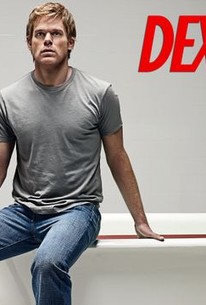 Episodes
Air date: Oct 2, 2011
Dexter attends his high school reunion to hunt for his new victim, a former prom king with a dark past, and asks big questions about his son's legacy. (HD) (DS) (W)More
Air date: Oct 9, 2011
Brother Sam, a minister with a criminal history, is brought in by the homicide department to help solve a macabre murder, but Dexter sees him for what he really is—and it's definitely not a man of God. Elsewhere, Debra's sudden hero status elicits a pair of surprising proposals.More
Air date: Oct 16, 2011
A serial killer from Dexter's past makes a shocking reappearance; Debra has problems settling into her new job; and Travis and Gellar contemplate their next move.More
Air date: Oct 23, 2011
To his surprise, an emergency with Harrison has Dexter leaning on Brother Sam for support as he questions the idea of faith.More
Air date: Oct 30, 2011
With the help of his newfound friend Brother Sam, Dexter wonders if there is light within him to counter the darkness. Elsewhere, the search for the Doomsday Killers takes Dexter in a new direction.More
Air date: Nov 6, 2011
Dexter is caught up in a very personal case that awakens the needs of his Dark Passenger. Meanwhile, Debra feels overwhelmed by her new lieutenant duties.More
Air date: Nov 20, 2011
Dexter uses lessons he learned from Brother Sam to follow up on new leads in the Doomsday investigation. Debra butts heads with Captain LaGuerta.More
Air date: Nov 27, 2011
Dexter finds help from an unexpected avenue while on the hunt for the Doomsday Killers, all the while trying to stay one step ahead of the Homicide Division.More
Air date: Dec 4, 2011
Dexter tries to figure out the Doomsday Killers' next victim before it's too late. Meanwhile, Debra has a strong reaction to a crime scene.More
Show More Episodes
Tv Season Info
The Doomsday Killers are sought in Season 6. Along the way, Dexter (Michael C. Hall) receives spiritual guidance, Deb (Jennifer Carpenter) struggles to settle into a new job, and a serial killer makes a surprising reappearance. Mos Def and Colin Hanks join the cast as Brother Sam and Travis Marshall, while Desmond Harrington, Lauren Velez and David Zayas all return for the sixth season.
Network:
Showtime
Premiere Date:
Oct 2, 2011
Executive Producers:
Audience Reviews for Dexter: Season 6
½
Though it tries to emulate the first season, Dexter: Season 6 is poorly written and unfocused. As Dexter's sister Debra is promoted to Lieutenant and takes over the homicide department, a new serial killer known as the Doomsday Killer emerges; meanwhile Dexter forms an unlikely friendship with an ex-con, street minister who shows him that a killer can be reformed. Unfortunately, the episodes are full of tangents and inconstancies that really hurt the storytelling. This poor writing also decreases the effectiveness of the two major twists/reveals that the season is built on. Yet, the characters remain compelling and keep the audience engaged. And, the acting is very strong, particularly by the guest stars: Mos Def, Colin Hanks, and Edward James Olmos. Season 6 of Dexter is very uneven and is full of unrealized potential; however it gets by, mostly on the high production value and the goodwill that the series has engendered.
Discussion Forum
Discuss Dexter on our TV talk forum!