Doctor Who: Season 4
(2008)
SEASON: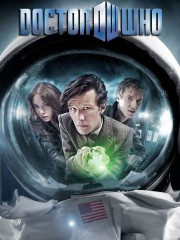 TOMATOMETER
——
Average Episode Score:
N/A
AUDIENCE SCORE
Critic Consensus: No consensus yet.
Episodes
Air date: Apr 25, 2008
Catherine Tate reprises her role as Donna Noble and joins the Doctor's side to foil an alien scheme involving weight-loss pills manufactured by Adipose Industries.More
Air date: May 2, 2008
A visit to ancient Rome puts the Doctor and Donna in Pompeii just ahead of what the Doctor calls "Volcano Day," which is the eruption of Mount Vesuvius.More
Air date: May 9, 2008
The Ood are encountered on the Ood Sphere, where the Doctor and Donna learn terrible things about the human race.More
Air date: May 16, 2008
Freema Agyeman reprises her role as Martha Jones, who phones the Doctor as an army of the Time Lord's old enemies, the Sontarans, kick their diabolical plan into motion.More
Air date: May 30, 2008
Poisonous gas threatens the people of Earth as the Sontarans attempt to convert the planet's atmosphere to suit their needs.More
Air date: Jun 6, 2008
The TARDIS takes the Doctor, Martha and Donna to the planet Messaline, where the Doctor's DNA is used to create a daughter while a war rages between humans and the Hath.More
Air date: Jun 13, 2008
Donna and the Doctor travel to 1926, where they meet the revered crime novelist Agatha Christie (Fenella Woolgar) and stumble into a murder mystery.More
Air date: Jun 20, 2008
Mysterious shadows menace an abandoned library, the latest destination for Donna and the Doctor.More
Air date: Jun 27, 2008
Donna loses her memory and leads a fast-paced life in a virtual world while the Doctor faces the Vashta Nerada with River Song, who reveals things about his future.More
Show More Episodes
Doctor Who: Season 4 Trailers & Photos
Tv Season Info
Join the 10th incarnation of the Doctor (David Tennant) and his faithful companion Donna Noble (Catherine Tate) as they explore time and space in the TARDIS, saving worlds and solving problems. Together, the time-travelers traipse through Pompeii the day before its eruption; investigate mysteries with Agatha Christie; and even meet up with the Doctor's previous roadie, Rose Tyler (Billie Piper).
News & Interviews for Doctor Who: Season 4
Friend Ratings for Doctor Who: Season 4
No Friends? Inconceivable! Log in to see what your friends have to say.
Login
Audience Reviews for Doctor Who: Season 4
Perhaps not the strongest season overall, but contains some of the best episodes of Doctor Who made in its entire 50 year history (Midnight, Silence in the Library, The Waters of Mars).