Doctor Who: Season 6
(2011)
SEASON: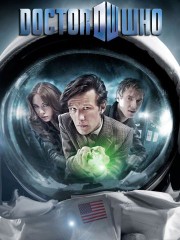 TOMATOMETER
——
Average Episode Score:
N/A
——
Average Episode Score:
N/A
AUDIENCE SCORE
Critic Consensus: No consensus yet.
Episodes
Air date: Apr 23, 2011
The Doctor and his friends are reunited under mysterious circumstances, as the science-fiction drama returns for a new series. Amy, Rory, River and the Doctor receive a series of numbered envelopes, each containing a date, time and map reference. These messages bring them together in the middle of the Utah desert, where the Doctor's friends learn a terrible secret that must be kept from the Time Lord at all costs. But who sent the envelopes, and who received the missing number one? Their quest for answers takes the TARDIS crew to the Oval Office, where President Richard Nixon enlists their help in saving a terrified little girl from a mysterious spaceman...More
Air date: Apr 30, 2011
Science fiction drama. The Doctor mounts a rebellion against an alien invasion dating back to the very beginnings of human civilisation.More
Air date: May 7, 2011
Science fiction drama. The Doctor, Amy and Rory must solve the mystery of the disappearance of a pirate crew at the hands of a beautiful Siren.More
Air date: May 14, 2011
When he follows a Time Lord distress signal, the Doctor puts Amy, Rory and his beloved TARDIS in grave danger.More
Air date: May 21, 2011
A solar tsunami liberates doppelgangers from their human 'originals' in a futuristic factory. Can the Doctor prevent all-out civil war?More
Air date: Jun 4, 2011
As the solar storm rages and the factory crumbles, a Ganger driven mad by the memories of being 'decommissioned' is seeking revenge.More
Air date: Jun 11, 2011
Science fiction drama. The Doctor assembles an army to face the Battle of Demons Run - and River Song has something to tell him.More
Air date: Aug 27, 2011
The desperate search for Melody Pond sees the TARDIS crash-landing in 1930s Berlin, as the time-travelling drama returns. There, the Doctor comes face-to-face with the greatest war criminal in the universe. And Hitler. Old friendships are tested to their limits as the Doctor suffers the ultimate betrayal and learns a harsh lesson in the cruellest warfare of all. As precious time ebbs away, the Doctor must teach his adversaries that time travel has responsibilities. And he must succeed before an almighty price is paid.More
Air date: Sep 3, 2011
Classic sci-fi drama series. The Doctor and his companions come to the aid of a terrified child, whose monsters appear to be real.More
Air date: Sep 10, 2011
Amy is trapped in a quarantine facility for victims of an alien plague. Can Rory save her before she is killed by kindness?More
Show More Episodes
Doctor Who: Season 6 Trailers & Photos
Tv Season Info
The Eleventh Doctor (Matt Smith) and his companions Amy Pond (Karen Gillan) and Rory Williams (Arthur Darvill) traverse time and space in the TARDIS as the BBC hit "Doctor Who" returns for a sixth series. In this series we begin to learn the origins of the mysterious River Song (Alex Kingston), discover the reason for the TARDIS exploding, and have yet another deeply unsettling encounter with the Silence.
News & Interviews for Doctor Who: Season 6
Friend Ratings for Doctor Who: Season 6
No Friends? Inconceivable! Log in to see what your friends have to say.
Login
Audience Reviews for Doctor Who: Season 6
½
Not without merit all together, but very lacking for what we expect from the series.
Discussion Forum
Discuss Doctor Who on our TV talk forum!