Doctor Who: Season 7
(2012-2013)
SEASON: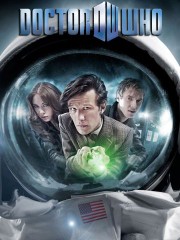 TOMATOMETER
——
Average Episode Score:
N/A
AUDIENCE SCORE
Critic Consensus: No consensus yet.
Episodes
Air date: Sep 1, 2012
When the Doctor is kidnapped by his oldest foe, he is forced on an impossible mission - to a place even the Daleks are too terrified to enter.More
Air date: Sep 8, 2012
An unmanned spaceship hurtles towards certain destruction. Only the Doctor can save it, along with its impossible cargo of dinosaurs. By his side are a ragtag gang of adventurers: a big game hunter, an Egyptian queen and a surprised member of the Pond family. But little does the Doctor know that there is someone else onboard who will stop at nothing to keep hold of his precious, prehistoric cargo.More
Air date: Sep 15, 2012
The Doctor gets a Stetson and a gun, and finds himself the reluctant sheriff of a Western town under siege by a relentless cyborg, who goes by the name of the Gunslinger. But who is he, and what does he want? The answer seems to lie with the mysterious Kahler-Jex, an alien doctor whose initial appearance is hiding a dark secret.More
Air date: Sep 22, 2012
The Doctor and the Ponds puzzle over an unlikely invasion of Earth, as millions of sinister black cubes arrive overnight, almost like presents falling from the sky. But what are they, what is inside them and, most importantly, who sent them? With the international community at a loss, it is left to the Doctor to unearth who is behind the mystery.More
Air date: Sep 29, 2012
The Doctor's heart-breaking farewell to Amy and Rory follows a race against time through the streets of Manhattan, as New York's statues come to life around them... With Rory's life in danger, the Doctor and Amy must locate him before it is too late! Luckily, an old friend helps them and guides the way.More
Air date: Dec 25, 2012
The Doctor and his new companion, Clara, fight to save Christmas from the villainous Doctor Simeon and his army of evil snowmen.More
Air date: Mar 30, 2013
The Doctor's search for Clara Oswald brings him to modern-day London, where Wi-Fi is everywhere. Humanity lives in a Wi-Fi soup. But something dangerous is lurking in the signals, picking off minds and imprisoning them. As Clara becomes the target of this insidious menace, the Doctor races to save her and the world from an ancient enemy.More
Air date: Apr 6, 2013
Clara wants to see something awesome, so the Doctor whisks her off to the inhabited rings of the planet Akhaten, where the Festival of Offerings is in full swing. Clara meets the young Queen of Years as the pilgrims and natives ready for the ceremony. But something is stirring in the pyramid, and a sacrifice will be demanded...More
Show More Episodes
Doctor Who: Season 7 Trailers & Photos
Tv Season Info
The British classic's seventh season finds the 11th incarnation of the doctor (Matt Smith) on his final adventures in the TARDIS with the departing Amy and Rory Pond (Karen Gillan; Arthur Darvill). Before saying good-bye to their "madman with a box," the companions face an assortment of Daleks, dinosaurs, wild-west shootouts, alien cubes and, finally, an infestation of Weeping Angels in New York. Rory's father, Brian (Mark Williams), accompanies the trio on a couple of their adventures and series staple River Song (Alex Kingston) returns for a dramatic episode where the Doctor must face the one thing he hates most of all---endings. … More
News & Interviews for Doctor Who: Season 7
Friend Ratings for Doctor Who: Season 7
No Friends? Inconceivable! Log in to see what your friends have to say.
Login
All Critics (3) | Fresh (3) | Rotten (0)
Though the low budget can show in the CG effects at times, the entertaining stories and iconic protagonist has inspired a cult following that has lasted for years.

In the penultimate batch of episodes before Doctor Who's jubilee year, executive producer Steven Moffat continues to marvel with his ability to keep the time-and-space-travelling Doctor in ever-so-complicated trouble. [Blu-ray]

Audience Reviews for Doctor Who: Season 7