Doctor Who: Twice Upon a Time (2017 Christmas Special)
(2017)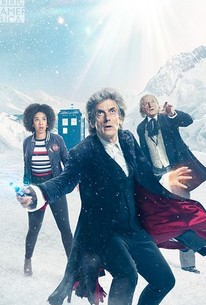 Rate And Review
Episodes
Air date: Dec 25, 2017
Two Doctors stranded in an Arctic snowscape, refusing to face regeneration. Enchanted glass people, stealing their victims from frozen time. And a World War One captain destined to die on the battlefield, but taken from the trenches to play his part in the Doctor's story. An uplifting new tale about the power of hope in humanity's darkest hours, Twice Upon A Time marks the end of an era. But as the Doctor must face his past to decide his future, his journey is only just beginning...
View Details
Doctor Who: Twice Upon a Time (2017 Christmas Special) Videos
Tv Season Info
The magical final chapter of the Twelfth Doctor's (Peter Capaldi) journey sees the Time Lord team up with his former self, the first ever Doctor (David Bradley) and a returning Bill Potts (Pearl Mackie), for one last adventure.
News & Interviews for Doctor Who: Twice Upon a Time (2017 Christmas Special)
Audience Reviews for Doctor Who: Twice Upon a Time (2017 Christmas Special)
I enjoyed this special but was disappointed with the disrespectful way the original Doctor was treated with the writing. William Hartnell would have been upset. I disliked the unnecessary anti-male attitudes. This detracted from a rather good episode.

The thirteenth Doctor's best episode was mostly starred by the First and Twelfth and was damn fun. The episode has lots of breathtaking and hilarious scene and is very joyful.

Awful. Firstly the story was a plotless nonsense. The first Doctor was completely misportrayed and David Bradley could not reproduce Hartnell's performance at all.

Utterly disgraceful treatment of the man that launched the show, and who was immensely proud of his portrayal until his death. To rewrite his character to vilify him as a bigot shows how low the social justice brigade will go. Shameful. And yet better than what was to follow.....

I'm only giving this one 4.5 stars because it needs more Nardole lol

Disgustingly insulting to William Hartnell's performances.

Would have been a good Christmas special if the 1st doctor hadn't been portrayed as sexist.

The casting choices for this Special were excellent. David Bradley was Superb as the First Doctor despite the fact he was portrayed as sexist. which is why I wouldn't give more than 3.5 stars. However, I particularly liked the moment where Capaldi's Doctor lets the cat out the bag to the WW1 soldier that there is another War only to say "Spoilers" once he realises what he said. This episode will always be remembered by me as the day Doctor Who officially died as well as probably being the last Christmas Special to hit our screens.

David Bradley and Peter Capaldi was fantastic. I was heartbroken with 12's last speech. Exceptional episode.

I enjoyed this. I miss Capaldi as the Doctor. My only wish is that they hadn't gone overboard with making the 1st Doctor sexist as a way to make way for a female Doctor. I also wish that 12 hadn't regenerated but that's just my wishful thinking.