Doctor Who: The Time of the Doctor
(2013)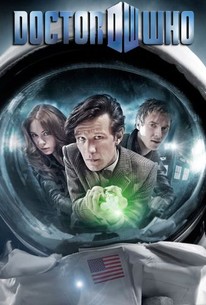 Rate And Review
Tv Season Info
Orbiting a quiet backwater planet, the massed forces of the universe's deadliest species gather, drawn to a mysterious message that echoes out to the stars. And amongst them, the Doctor. -- (C) BBC
News & Interviews for Doctor Who: The Time of the Doctor
Audience Reviews for Doctor Who: The Time of the Doctor
The biggest pile of baloney and mundaneness I have ever seen in my life.

A few good scenes in what is otherwise a total disaster of a story with a wafer thin plot.

The perfect way to say goodbye to Matt Smith.

Some of it i enjoyed but the more i'm watching clara the less i like her. she is really spoiling it for me.

The Sonic Screwdriver and the TARDIS help the Doctor save the Earth on a weekly basis. The Doctor, a now two thousand year old Time Lord, battles aliens and human nature so that "everybody lives". 13 regenerations into his life, the Doctor has saved billions a million times over. Doctor Who is an entrancing British SYFY show packed with action, humor, beautiful space scenes, and cross species relationships. The Doctor brings various companions into his space ship time machine and takes them across the stars. His companions are plucked from their dull, everyday lives and shown the wonders of the universe. When they come back home, they are a mere shell of who they were. The Doctor turns some into soldiers, like dear Martha Jones, some become trapped, never to return like Rose Tyler. And some must forget to save their lives, like Donna Noble. The older the Doctor becomes, the more he realizes that he manipulates the lives of those who love him most, so that he may continue in his reckless ways. He reasons with himself that he must live so that the galaxy may as well. The weight of the universe weighs on the shoulders of the last Time Lord.

Matt Smith's emotional departure is perfectly portrayed with a clash of titans, the final conclusion of the "Silence will fall" storyline that has been building since Smith's first episode, and a smashing...ly emotional ending to the Era of the Eleventh Doctor.

A good finally for Matt Smith. It was fun and emotional.

A bit of a mess in parts and almost rushed but a great send-off for Matt Smith.

Horrible, over-bloated script. From the cringe-worthy "nudity" at the family dinner at the beginning, to the most boring battle sequences in the history of television, to the horrible answer to the question no one cared about -"Doctor Who?" This is the worst of the Moffat Era. Half a star for the superb last minute with Capaldi.