Downton Abbey: Season 3
(2012)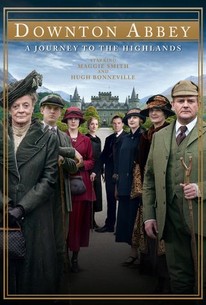 Episodes
The third season of "Downton Abbey" commences with the family and staff preparing for Mary and Matthew's wedding; and Cora's mother (Shirley MacLaine) arriving from the U.S. Robert, meanwhile, receives bad news about an investment; and O'Brien arranges for her nephew to become the new footman.More
Mary and Violet set out to persuade Martha to save Downton; O'Brien and Thomas are at odds; Mrs. Hughes has a health scare that she shares with Mrs. Patmore; Isobel discovers that Ethel has turned to prostitution.More
The future of Downton Abbey rests on a letter written by Lavinia's late father to Matthew. In other events, Edith prepares for her wedding to Sir Anthony; Mrs. Hughes receives news from Dr. Clarkson; Bates has trouble with his cellmate; and Thomas feeds false information about O'Brien to Molesley.More
Tom and the pregnant Sybil arrive at Downton after an incident in Ireland has left Tom a wanted man; Edith has a letter in support of women's suffrage published in a newspaper.More
Edith is asked to pen a newspaper column; Isobel offers Ethel a position in her household; Matthew questions the management of the estate; Sybil goes into labor while Dr. Clarkson and an esteemed obstetrician Robert hired disagree about the delivery.More
Cora and Robert stop speaking to each other; Branson decides to name his daughter Sybil and wishes to have her baptized as a Catholic, which doesn't go over well with Robert; Mrs. Patmore lends a hand to Ethel when the Crawley women are invited to Isobel's for lunch.More
Bates is freed from prison; Thomas makes a play for Jimmy; Branson's brother visits; Violet supports Edith's desire to become a journalist; Matthew discusses the mismanagement of the estate with Robert.More
Robert is keen on putting together a viable team for the annual cricket match against the town. In other events, Violet's great-niece Rose arrives for a stay; Carson wants to fire Thomas.More
The Crawley Family take a trip to Duneagle Castle in Scotland to visit Violet's great niece Rose and her parents, Shrimpie and Susan, but there are obvious tensions between their hosts. Whilst the few Downton servants who accompanied their masters adjust to the etiquette of a different household, the family join in with traditional Highland activities such as deer stalking and there is a lavish ball for all to attend. Mary is keen to participate in everything, but Matthew is more protective than ever of his wife. Despite most of the household being away Carson is determined to keep the servants working hard. However, news of a fair arriving in Thirsk puts more pressure on him to allow them a little relaxation. Branson also remains at home, taking care of baby Sybil and is tempted to socialise with his old friends below stairs but is this the wisest course of action?More
Downton Abbey: Season 3 Videos
Downton Abbey: Season 3 Photos
Tv Season Info
The Great War is over and a long-awaited engagement is on, but all is not tranquil at Downton Abbey as wrenching social changes, romantic intrigues, and personal crises grip the majestic English country estate for a third thrilling season. Downton's impeccable butler, Carson (Jim Carter), breaks in a new footman, who happens to be the nephew of the scheming lady's maid O'Brien (Siobhan Finneran). Following Matthew and Mary's engagement, Robert sticks to his duty to maintain Downton more firmly than ever - even as other great houses are crippled psychologically and financially in the wake of World War I.
Genre:
Drama
Network:
ITV
Premiere Date:
Jan 6, 2013
Creator:
Executive Producers:
News & Interviews for Downton Abbey: Season 3
Audience Reviews for Downton Abbey: Season 3
½
It gets better every season. A+
Season 3 reveals many new plots and a whole new set of characters making it fun to watch.
Discussion Forum
Discuss Downton Abbey on our TV talk forum!