Flint Town: Season 1
(2018)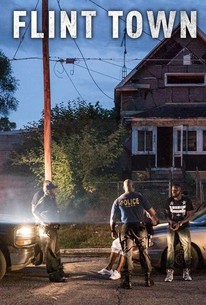 Rate And Review
Flint Town: Season 1 Photos
News & Interviews for Flint Town: Season 1
Audience Reviews for Flint Town: Season 1
'Flint Town' has excellent documentation, camerawork, structure, and editing that give the viewers a broad, nuanced perspective of policing in the United States in one of the most crime-stricken cities in the country. You won't find extremist perspectives from either political side; rather, you get a variety of stories, perspectives, and narratives.

This show is raw. They give it to you how it is. Real people real problems and how politics get in the way of helping our fellow people. This show needs to be seen by everyone. It's deep very very deep.

A very interesting view on the city of flint. It is captivating. The quality of the footage (HD definition quality) is the best i have ever seen in a documentary. They make it almost feel like a real movie.

If you have been a fan of recent netflix docs like wild wild country, making a murderer, or the keepers, you'll probably love this 8-part series. it is a little different from the other documentaries in that it isn't quite telling a story. it is embedded journalism. the show centers on flint and its water crisis, crime crisis, and police shortage crisis. it does a fantastic job not taking a particular side. many big american events happen during the show, and you get a lot of perspectives. i would say the best thing it does is give an uncensored mouthpiece to cops, citizens, and politicians. you really see a less-filtered viewpoint from many different perspectives which has totally changed my point of view on the flint crisis. it isn't perfect - my only real major gripe is the editing. it's a little too film like (climax, dramatic music, etc). There could have been far less music and editing and it would still be a stressful show (in a good way) to watch. Not appropriate for kids - no censorship on blood, swearing, etc. highly suggest you watch it.

garbage. really cool if you like seeing dogs murdered and their bodies just tossed around. Sad that they have to do that for ratings. So poorly written and keeps going back and forth. junk

Jacob L. Davey Flint Town Netflix original The Netflix original Flint Town in a documentary series highlighting the officers in Flint Michigan. The documentary is amazing in the way it opens people's eyes to the problems there. I saw before this documentary Flint as a whole small town with a water crises from the news. That's far from true its a real city with huge poverty problems. The director shows us the real lives of a few officers and their real opinions on the towns problems. We see there interactions and their crime policies. We also see them talk about and deal with the unsteady situation between police and the people all across america. He also presents interviews with the citizens and their opinions varying at that on the town and law enforcement. I think the director wants us to make our own opinion on the problems there and shows us all the information in order to make the best choice. The series is really good and definitely an education for a lot of different viewers. I think it's a must watch for everyone and really easy.

Brilliant documentary. Hard-hitting, brutal and sad.

Amazing and beyond disgusting at the same time. Political coruption is brought to light, nothing being done regarding public safety funding or the water crisis!

sheer brilliance, the wire in real life.