Game of Thrones: Season 5
(2015)
SEASON: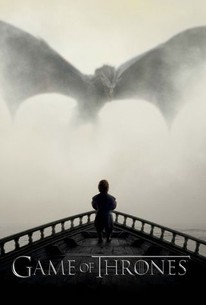 TOMATOMETER
AUDIENCE SCORE
Critic Consensus: Bloody action and extreme power plays return full throttle, as Game of Thrones enjoys a new-found liberation from the world of the source material, resulting in more unexpected thrills.
Game of Thrones: Season 5 Videos
Game of Thrones: Season 5 Photos
Tv Season Info
Series 5 sees Daenerys Targaryen continue to grow in power which is not going unnoticed by those in Westeros. Elsewhere, Jon Snow faces some major changes on the wall and Aryr Stark continues on her quest for revenge.
News & Interviews for Game of Thrones: Season 5
Audience Reviews for Game of Thrones: Season 5
½
So, the most difficult season of Game of Thrones so far has ended. Difficult for many reasons. Firstly, it's adapting two dreadful convoluted books that keep on getting more and more complicated for no reason. The showrunners have done a decent job with sharpening it up to the essentials, leaving for later other stories (don't worry very angry internet fanbase, you'll get your Greyjoys...) but it also backfired more than once. Some storylines either felt too rushed or too slow. Granted, most of them have continuity with what's coming next, because this is the most carefully constructed show you have on TV right now and I don't mind certain cliffhangers or "that's it?" moments. They usually come back, even if it takes a couple of seasons. I'm sure when the show is done, you won't feel a season ending and another starting, it's that well built. Obviously, Dorne took the shit cake. I dunno what happened there but it seemed the story was handled to the writer's nephews or interns or something. It was just sloppy but it picked up on the last couple of episodes. I still hope they make something interesting out of this, they generally do but the drop in quality was way too evident when everything else is so great. Secondly, this is a very emotionally exhausting season. Pretty much every character is humiliated or humiliates itself in every episode. There are very few heroisms (but there are some) and everyone makes terrible terrible decisions. Some with consent and well aware of what they're getting into, others completely clueless of the downfall they're bringing to themselves. There were also a lot of parallels to parenting, on people surviving without guidance from motherly or fatherly figures, growing up on very difficult situations which gives this show an unusual depth to such a popular show. This, of course, brings rage everywhere. People confusing dreadful acts that happen on a daily basis to misogyny, child murdering, fanaticism amongst many other things, don't seem to realize that this show mirrors our society like few others do. This is not fantasy, this is something that happens everyday, are we supposed to shy aways from these topics and pretend they never happen? This was hardly ever an "entertaining" show right when it started, it didn't change its stripes now. Sure, I think some decisions were probably overly cruel and most violence was aimed at women this season but what about the previous ones? I saw a lot of shit happening to men on the last one, both physically and emotionally. I recall the dialogue between Oberyn and Tyrion before the trial being beyond heart wrenching. Theon being tortured was awful. But I digress, it's useless to have a decent civilized discussion online. All in all, this was the weakest Game of Thrones season so far but that doesn't mean much when you're still probably the best show around. There aren't many shows this ambitious and that manage to create such visceral emotions on the viewers. To me, that's a sign you're doing something right. You still care even if you're so enraged. That's the point.
½
The fifth season of George R.R. Martin's acclaimed series of novels reaches even more treacherous and heart-sinking roads. Game of Thrones Season 5 may have somewhat of a slow start but its sheer drama, blood-drenching violence and nerve-racking cliffhangers propels it to the heights we are accustomed to and keeps us begging and pleading for more. 4.5/5
½
While Game of Thrones season 5 suffered some minor injuries with divergence from the book, other ventures worked out well.
Discussion Forum
Discuss Game of Thrones on our TV talk forum!