Greek: Season 1
(2007-2008)
SEASON: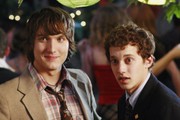 Episodes
Air date: Jul 9, 2007
Freshman Rusty is anxious to start a new life as he enters college, leaving his nerdy past behind. His sister Casey, who is a member of a high class sorority, hopes to keep him as far away from her crowd as possible, but it begins to look like they might be in close proximity as Rusty considers joining a frat to increase his own popularity.More
Air date: Jul 16, 2007
It's the first week of school and all the frats and sororities are hazing their new pledges. Frannie lets Rebecca take Casey's room, but when Casey finds a video of Rebecca in a very compromising position, she uses a little old fashioned blackmail to get it back.More
Air date: Jul 23, 2007
Rusty is stuck without a date for the mixer so he asks Casey for help, but when she puts him in preppy clothes and instructs him to act differently, Cappie interjects and says that Casey is wrong. The two fight, and Rusty has to choose whose advice to take.More
Air date: Jul 30, 2007
Scorned from Casey using her sex tape to blackmail her, Rebecca gets back at her by using her knowledge of Casey's encounter with Cappie to spot on the Athletic Support team. Casey has her own plans for sabotage, however, and is determined to make sure Omega Chi wins the floor hockey tournament.More
Air date: Aug 6, 2007
Kappa Tau is throwing a Mount Vesuvius party but they can't get their model volcano to blow until they enlist Rusty, who puts his science skills to use. Meanwhile, Casey's rivalry with Rebecca continues when she goes to meet Evan's parents but Rebecca shows up unexpectedly.More
Air date: Aug 13, 2007
Casey continues her campaign to become sorority president by throwing a slumber party, but things go wrong before the night is over. Meanwhile, Cappie receives a surprise visit from a girl named Destiny.More
Air date: Aug 20, 2007
Rusty is stressed about studying for his midterms while simultaneously maintaining his commitments to his frat. Cappie offers him a possible solution, but Rusty doesn't know if taking his advice would be the right thing to do.More
Air date: Aug 27, 2007
Rusty and Jen K go out on a date where Rusty awkwardly tells her that he loves her. Meanwhile, Cappie takes the guys to a strip club where Heath and Calvin have a confrontation over their relationship.More
Air date: Sep 3, 2007
As Frannie and Casey compete for the title of Omega Chi Sweetheart, Frannie discovers that she'll have to stay on for a fifth year in order to graduate. When the rivalry doesn't go in Frannie's favor, her bitterness boils over.More
Air date: Sep 10, 2007
It is discovered that all this time, Jen K has been an undercover reporter writing an expose on the scandalous ways of the Greek system. An investigation into the ZBZ is launched by the Nationals, who remove Frannie from her position as president and place Casey in the role in the meantime.More
Tv Season Info
Science geek Rusty Cartwright (Jacob Zachar) begins his freshman year at the same university his popular sister Casey (Spencer Grammer) attends in Season 1 of this comedy-drama focusing on a group of students who belong to fraternities and sororities. Casey is a big deal at her sorority Zeta Beta Zeta, and much to her chagrin, Rusty decides he also wants to become a part of Cyprus-Rhodes University's Greek life. He initially plans to pledge Omega Chi, where Casey's boyfriend, blue-blooded Evan (Jake McDorman), is a member. However, Rusty catches Evan cheating on Casey with ZBZ pledge Rebecca (Dilshad Vadsaria), a senator's daughter. When Rusty tells his sister about Evan's infidelity, he ruins his chances at Omega Chi and joins Kappa Tau, where laid-back Cappie (Scott Michael Foster) is president. Cappie is Evan's former best friend and Casey's ex-boyfriend, which makes things complicated. Life soon gets complicated for Rusty as well when he tries to balance Greek life with honors classes and friendships. Rusty's roommate is pious Dale (Clark Duke), who chooses not to pledge a fraternity, and Rusty's new best bud is Calvin (Paul James), an athletic Greek legacy who becomes an Omega Chi brother. Calvin doesn't initially tell his new brothers that he is gay, but then bubbly ZBZ sister Ashleigh (Amber Stevens) accidentally outs him to his fraternity. Calvin begins secretly dating pre-med major Heath (Zack Lively), and Rusty starts a relationship with his first girlfriend, ZBZ pledge Jen K (Jessica Rose). However, Jen K does something that causes a scandal within the Greek system, and it forces ZBZ president Frannie (Tiffany Dupont) to step down. Casey then becomes ZBZ president, but it's at a time when her romantic life is going downhill---she and Evan break up, and she learns Cappie is dating Rebecca. Meanwhile, Dale forms a new club: U-SAG (University Students Against Greeks). … More
Cast
News & Interviews for Greek: Season 1
Friend Ratings for Greek: Season 1
No Friends? Inconceivable! Log in to see what your friends have to say.
Login
Audience Reviews for Greek: Season 1
There are no featured audience reviews yet. Click the link below to see what others say about Greek: Season 1!
Discussion Forum
Discuss Greek on our TV talk forum!
News & Features