Winning a Battle, Losing the War
EPISODE: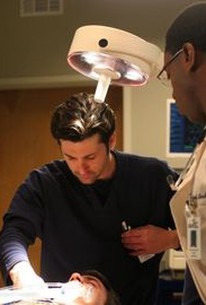 Episode Info
It's the annual Dead Baby Bike Day, in which the bicycle messengers of Seattle participate in a city-wide race. Unfortunately, there's been a spectacular accident, and the ER is filled to overflowing with injured cyclists and pedestrians. Among the casualties is a biker named Viper (Callum Blue), who has spokes protruding from his abdomen--not that this prevents him from hitting on Meredith (Ellen Pompeo), who has enough trouble on her hands fending off Derek (Patrick Dempsey). On a more somber note, anothere of the victims is an unidentified, brain-dead woman, whose organs may end up being harvested for a gay cancer patient (Keith David. It is up to Izzie (Katherine Heigl) to decide whether or not to remove the comatose woman's liver...and, more problematically, to determine how long to wait before doing so.
Winning a Battle, Losing the War Photos
Discussion Forum
Discuss Grey's Anatomy on our TV talk forum!