Happyish: Season 1
(2015)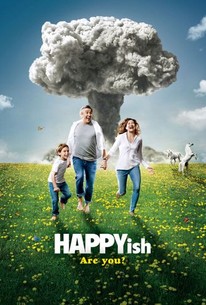 Rate And Review
Happyish: Season 1 Photos
Tv Season Info
The first and only season of this dark-minded dramedy stars Steve Coogan as Thom Payne and Kathryn Hahn as Lee Payne, a middle-aged couple who struggle to feel genuinely happy with their lives. This raw, comedic take on growing older in a culture obsessed with youth focuses on Thom who works at an advertising agency that enlists the help of young, Swedish creative directors to revamp the company's image. Much like the company, Thom's new boss also encourages him to "rebrand" himself as well. The show also features Bradley Whitford as Jonathan Cooke and Ellen Barkin as Dani Kirschenbloom.
News & Interviews for Happyish: Season 1
Audience Reviews for Happyish: Season 1
Exagereaza dar o face bine

Fabulous show from 2015 that I had no idea existed until the end of 2019. Just finished binge watching it. Hilarious, great food for thought, cynical, but human. I so wish this show had many seasons and will miss it. Probably before it's time. Must learn more about Auslander.

I tried to watch, but after only half of episode 1, I had to stop. I found the language extremely off-putting, especially given the fact that it's spoken in front of these children. I can't believe their parents allowed them to hear this! It seems that the writers thought that if they put enough vile language in it, it would somehow be funny. Glad it was cancelled; no surprise!

The most cathartic television season I've ever experienced. For anyone sick of all the bull in life trying to be an acceptable adult, a parent, an employee, a citizen...blah blah blah. Not for anyone who likes to think of the world as all roses and kitties and hugs.

OMG! Finally a TV Series that points out the ignorance of social following in the world, love this show. We put in Happyish (2015) to watch out of merely something to watch as we went to sleep, well that didn't happen. Once the first episode started we couldn't get enough. Happyish (2015) is a TV Show for the not so "Idiocracy" side of the world, you know the 10 % that isn't sheep following the simple point click like trends, or should I say following their favorite toilet paper on twitter; gotta love it. Happyish (2015) gets right down to the point and in a very humorous way, beautifully put together with the perfect cast. It doesn't get much better than this.

Wow, the "critics" sure failed on this one. Perhaps that's why they're critics. If you're so far removed from what the audience thinks, it's probably time to find another job to suck at.

I just finished watching the first season of Happyish, and truly hope it is the last. I watched the complete season hoping there would be something to change my opinion. In the end the show is week to week complaints about everyone else, and everything. A constant explosion of how everyone except for this Woodstock couple and their close friends are idiots. Yet, after constant complaints how their lives are so unhappy. Their solution, well there is none. Now for the frosting on the cake of this horrible show, the season finale. Finally he has the balls to do one should have been done in episode 1, quit your his freaking job. Yet, the writer or creator comes up with his wife is pregnant so he is stuck. Really!!! Really!! How do you get a Showtime series with this crappy writing and plots? Well, thank goodness. Ray Donavan will be on again soon.

How odd that 82% of regular people like Happyish yet the "official critics" panned it. Doesn't that say something about how critics are just people with the same measure of opinion as anyone? They just know how to write their opinions down on paper better than the average person and/or get jobs to do it. Happyish is mostly great! The only criticism for me, is the fantasy alter-ego imagination that is thrown into each half hour episode. It takes away from the actual show and some episodes are reduced down to about only 15 minutes of great material. There are so many tragically comedic and ironically familiar scenes. great job Shalom A!! Yay!-Fuk-Yay!-Fuk-Yay!

Good thing I do not follow the critics advice, my life would truly suck worse than it already does, and I probable would put a gun in my mouth. The Best 30 minute comedy on TV period. Surpasses Californication by miles.

As someone who has been on the creative side of advertising working as an AD and CD on big and well-known brands for over 20 years, this show is the first real accurate portrayal of what it's like to work in a contemporary ad agency since Thirty-Something. And it's poignant and hilarious . I am so surprised at the poor reviews from critics. As are many of my talented fellow creatives who have worked on accounts such as Keebler and Coca Cola (and have written for television sitcoms too). I can only assume the critics, who may know what it's like to be in the entertainment industry, have no real idea of what it's like to be in the ad industry. And therefore fail to see the humor in it.