Hatfields & Mccoys: Season 1
(2012)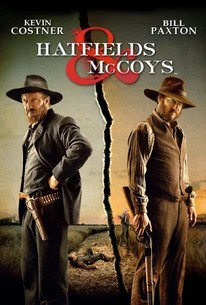 Rate And Review
Episodes
Air date: May 28, 2012
Kevin Costner and Bill Paxton star in this all-new three-part miniseries about the legendary and deadly family feud that broke out in the backwoods of West Virginia and Kentucky after the Civil War. The clash of clans begins when a Hatfield murders a McCoy, and Randall McCoy's daughter and Devil Anse Hatfield's son begin a tempestuous, forbidden love affair. Part 1 of 3.
View Details
Air date: May 29, 2012
When the McCoys murder Anse's younger brother, the Hatfields ride out to get bloody revenge. Soon, friends, neighbors, and outside forces join the feud, and all-out hostilities between the Hatfields and McCoys bring West Virginia and Kentucky to the brink of Civil War. Part 2 of 3.
View Details
Air date: May 30, 2012
Bad Frank's raids force the besieged Hatfields deeper into the mountains; the impulsive Johnse sets his sights on another McCoy woman; the ruthless Nancy McCoy spies on the Hatfields; and the feud leads to a shattering New Year's Day battle. Part 3 of 3.
View Details
Hatfields & Mccoys: Season 1 Photos
Tv Season Info
Bonded by their oath to the same flag, two confederate soldiers, "Devil" Anse Hatfield and Randall McCoy , return home seeking peace after tireless months of battle. Their expectations are quickly shattered when a murder based on misunderstandings and an illicit love affair trigger warfare between former comrades and their clans. This historic feud teeters on the brink of an all out civil war as friends and neighbors join opposing sides in a rivalry that would ultimately shape American History.
News & Interviews for Hatfields & Mccoys: Season 1
Audience Reviews for Hatfields & Mccoys: Season 1
Hard to believe it's been close to 7 years since this was made.. time flies indeed. One of the truly great TV miniseries, History hit lighting in a bottle with this one which they haven't came close to mastering in the years since. I do agree it takes itself a little too seriously; it isn't that fun in spots and the final climax is very negative and deep.. I was actually bummed out by it tbh. Costner's the likeable lead but Paxton makes it fun.. solid supporting cast too.

This down-and-dirty epic doubles down on storied family intrigue while also emerging as the best made-for-TV western saga since AMC's 2006 Broken Trail.

Amazing movie that gives a glimpse into the lives and fueds between these two families. The details in the sets, locations, costumes, and weapons used in this film were enough to make the viewer feel as though they stepped out of a time machine.

You can say some of this story is cliche, but since it's all true (only a bit being reimagined for simplicity & drama) then you must realize any 'cliche' has been created by THIS.

A melhor minisérie até os dias de hoje! Tudo é maravilhoso, o enredo, narrativa, fotografia, elenco, trilha sonora. É perfeito, aumentou o meu nível de exigência em relação a filmes do gênero.

Excellent mini-series about the titular feuding families. Outside of Looney Tunes hillbilly versions of them, I'm not sure I ever really knew the true history of these families, which sounds as if this film was fairly faithful to the true story. Kevin Costner is the patriarch of the Hatfields and Bill Paxton is the patriarch of the McCoys. Both give strong and contrasting performances as once one brothers-in-arms fighting Union Army during the Civil War, now as men fighting each other over justice, revenge, and family honor. The film is naturalistically directed by Kevin Reynolds, who's worked with Costner ever since the excellent "Fandango" to the infamous (though not nearly as bad as it's reputation) "Waterworld." The film is well writing and unlike many mini-series does not feel slow or drawn out. It also boast a strong supporting cast of many actor I hadn't heard of before who are terrific, although there were song very good name actors in supporting parts including Tom Berenger, Powers Boothe, Jena Malone, and Mare Winningham. For fans of westerns or historical dramas of this time period, this is definitely one to check out.

Gritty and dark... It will make you want to go apologize to anyone you've ever accidentally bumped into.

Very well made, interesting and dramatic, the kind of show that catches your attention.

Period piece that just drags on so dully that even the several fleeting bits of excitement are drudged.

Strong performances and production values aside, the script by 'Deadwood' scribe Ted Mann offers both the miniseries' strongest and weakest point. It pumps up tension steadily and has a very realistic harshness to it, befitting the violent source, but it's often slackly paced, feeling better fitting for 6, 45 mins episodes than 3, 1hr & 30 mins ones.