Hit & Run: Season 1
(2021)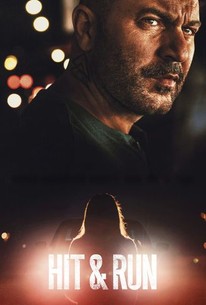 Rate And Review
Hit & Run: Season 1 Photos
Audience Reviews for Hit & Run: Season 1
It kept me on my toes. Hate to hear there won't be a 2nd season.

Starts out ok but then plunges into script crazytown. Lots of violence to link the set pieces together, but by episode three the plot makes no sense. Who ARE all these people? How long does this go on?

The question you have in the first episode keeps you puzzled through all the series: why this nice and pretty girl would like a repulsive guy like that? Don't waste you time in trying to find an answer. You won't. Either you won't find a logic explanation for so much narrative mistakes and colossal production mistakes in an otherwise promising spy vs spy story.

It tries, but just not that good. To many episodes. main character not likeable at all. And then to get to the end and see that it is not the end, but a set up for a second season. Frustrating. If I realized that I would have never continued watching.

Poorly written, badly acted and filled with cliched plot twists and action sequences. Think of a Liam Neeson revenge film without Liam Neeson ... then stretched from a tight 2 hour thrill ride into a 10 hour drive on an urban freeway during rush hour. Not a single character or story point is developed to make it worthy of such a lengthy telling. Lior Raz cannot act -- he's not even good at making sad faces. Spoiler alert -- nobody is whom they seem to be, no one can be trusted, and everything boils down to corrupt political institutions. And who cares? If you're looking for quality productions with similar themes, watch "Tehran" on Apple TV+. Even better, invest your time and energy into watching the superb "Le Bureau" on Sundance Now.

The show is okay. I found myself yelling at the TV screen because some parts of the show were ridiculous. 1) Some scenes were way too dark. I guess they were trying to set the mood but it was very hard to see. 2) Some episodes moved way too slow which caused me to get bored 3) The main character is not very likeable which makes it hard to root for him. 4)Too many people's lives were destroyed in the crusade for him to find out the truth about his wife.

This is a really fun show that we couldn't stop watching. Raz, Toren, Rosenblatt, and Ashkenazi were excellent! The story line lost it at a certain point and the casting on the American side, felt a bit forced (limited budget?), but it was still gripping and we can't wait for a second season.

Well paced international Netflix thriller. Just enough complexity to keep it interesting without being convuluted. Looking forward to season 2.

Lior Raz is a sight to behold; he is tough and still soft and caring. This show was a bit jumbled but that seems to be the way it is now.

I really liked the show, but without a commitment for a second season, the show ends in a cliffhanger. I would have given it a 4 star rating, but having a cliffhanger under these circumstances was a waste of my time, when I could have been watching something else.