House: Season 5
(2008-2009)
SEASON: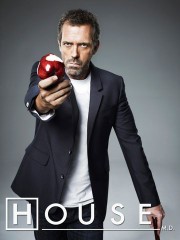 Episodes
Air date: Sep 16, 2008
As the fifth season opens, Wilson returns from an extended leave following Amber's death and announces he's leaving Princeton-Plainsboro. House thinks it's a terrible idea, and he isn't shy about saying so. Wilson's announcement also distracts him from the case at hand, that of the workaholic 37-year-old assistant to the leader of a major feminist organization who collapses during a business meeting. Thirteen takes a special interest in the case, and House questions her reasons for doing so.More
Air date: Sep 23, 2008
When people who received organs from a donor who was killed in an industrial accident five years earlier die suddenly, House must figure out why to save a recipient who's still alive. To track down information about the donor and the dead recipients, House hires a P.I. named Lucas (Michael Weston). But House also uses Lucas to snoop on Wilson as well as a colleague House is considering to replace Wilson as his friend.More
Air date: Sep 30, 2008
A struggling artist (Breckin Meyer) taking part in three drug trials to pay his bills is also suffering from something that's altering his perception and threatening not only his livelihood but his life as well. Meanwhile, House has Lucas (Michael Weston) look into the private lives of his team, including Taub, whose marriage is in trouble.More
Air date: Oct 14, 2008
House learns that his father (R. Lee Ermey) has died but must be coaxed into attending the funeral. Back at the hospital, the team struggles to treat a young Chinese-American adoptee who collapsed in China while searching for her birth parents, and House has to diagnose her over the phone. Meanwhile, flashbacks recall House's first meeting with Wilson.More
Air date: Oct 21, 2008
A woman with whom Thirteen had a one-night stand has a seizure at Thirteen's apartment, prompting intense curiosity (both professional and otherwise) about the women's personal lives from House and Foreman. Adding to the intrigue: Thirteen discovers why the woman wanted to sleep with her. Meanwhile, Lucas (Michael Weston) continues to snoop on Wilson.More
Air date: Oct 28, 2008
A middle-aged single father who tests consumer products for a living and has been suffering unexplained blackouts turns out to be a sleepwalker. And soon his daughter falls ill as well. Meanwhile, Cuddy plans to adopt a child, but her birth mother falls gravely ill two weeks before her due date.More
Air date: Nov 11, 2008
House and the team make a house call when an agoraphobe won't leave his home, but the patient's deteriorating condition makes it imperative to get him to a hospital. Meanwhile, House copes with a troublesome itch, and Cameron and Chase continue to refine their relationship.More
Air date: Nov 18, 2008
During an examination of a teen's heart problems, the team begins to doubt her claims of being an emancipated minor. Meanwhile, Foreman defies House's rejection of a proposal to conduct a clinical trial.More
Air date: Nov 25, 2008
A gun-wielding clinic patient (Zeljko Ivanek) takes House, Thirteen and several other patients hostage in Cuddy's waiting room and demands that House diagnose and treat him. The hostage taker also demands that House use other patients as guinea pigs for any medication he is going to receive. Thirteen volunteers for the treatment.More
Air date: Dec 2, 2008
A fitness guru known for her "natural" lifestyle collapses while shooting an infomercial. Meanwhile, Thirteen participates in a clinical drug trial for Huntington's disease led by Foreman; Kutner operates an online medical-advice clinic under House's name; and Cuddy moves into House's office while hers is being repaired, much to House's dismay.More
Show More Episodes
House: Season 5 Trailers & Photos
Tv Season Info
Season 5 finds medical misanthrope Greg House more irascible than ever. As the season opens, House's best (well, only) friend James Wilson returns after three months of grief leave following his fiancée's death, only to announce he's leaving again. Relationships develop between Cameron and Chase (Jennifer Morrison, Jesse Spencer) and Thirteen and Foreman (Olivia Wilde, Omar Epps). The season takes a darker turn toward its conclusion, as the good doctors face a tragedy that affects them all, but House in particular, who also turns to stronger medication to control his pain. … More
Genre:
Drama
Network:
FOX
Premiere Date:
Sep 16, 2008
Creator:

David Shore

Executive Producers:

Paul Attanasio

,

Katie Jacobs

,

David Shore

,

Bryan Singer

,

Daniel Sackheim

,

Hugh Laurie

,

Greg Yaitanes

Producers:

Paul Attanasio

,

Katie Jacobs

,

David Shore

,

Bryan Singer

,

Daniel Sackheim

,

Liz Friedman

,

Steven Heth

,

Marcy Kaplan

,

Larry Kaplow

,

Hugh Laurie

,

Greg Yaitanes

,

Gerrit van der Meer
News & Interviews for House: Season 5
Friend Ratings for House: Season 5
No Friends? Inconceivable! Log in to see what your friends have to say.
Login
Audience Reviews for House: Season 5
There are no featured audience reviews yet. Click the link below to see what others say about House: Season 5!