It's Always Sunny in Philadelphia: Season 3
(2007)
SEASON: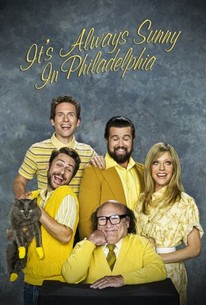 It's Always Sunny in Philadelphia: Season 3 Videos
It's Always Sunny in Philadelphia: Season 3 Photos
Tv Season Info
The amoral shenanigans of the slacker, pub-owning gang are kicked up a notch in Season 3 as Mac is suspected of being a serial killer, Dennis is mistaken for a child molester, and Dee and Mac try to make a buck off a baby they find in a Dumpster. The gang even gets mixed up with the mob---and the only way out is for Dennis (Glenn Howerton) to become a male escort. Maybe such outlandish behavior is simply in their genes. After all, Frank (Danny DeVito), the father of Dee (Kaitlin Olson) and Dennis, is totally out of control and has a "gang" of his own...the Yellow Jacket Boys (played by the doo-wop group the Mighty Echoes). And the dear old dad of Mac (Rob McElhenney) is no better. He's an ex-con and has his eye on Dee, who's definitely not interested. She dates a mentally challenged rapper instead. Dee also tries out for the Philadelphia Eagles, as does Mac, Dennis and Doyle McPoyle (Bob Rusch), reigniting the gang's feud with the inbred Doyle and his equally creepy brothers Liam and Ryan (Jimmi Simpson and Nate Mooney). Later on, the McPoyles invade Paddy's and it escalates into a hostage situation. Then there's a death to report: Dennis and Dee's mother (and Frank's ex-wife) passes on and stiffs them in her will, leaving her entire estate (except her house) to her humanitarian lover (Stephen Collins), who's nice to everybody---except the gang. And the season closes with Charlie (Charlie Day) inadvertently putting the bar up as the grand prize in a dance marathon. Feet, don't fail them now.
News & Interviews for It's Always Sunny in Philadelphia: Season 3
Audience Reviews for It's Always Sunny in Philadelphia: Season 3
½
The gang is back for more hilarity in Season 3 of It's Always Sunny In Philadelphia. With two seasons under its belt, the show starts to use its supporting cast of characters more; such as the McPoyles, Rickety Cricket, and the Waitress. The series also stretches its storytelling ability by revisiting past story threads and crafting the show's first two part episode. Additionally, the comedy features more parody this time around, and the characters get a little more goofball. Though it has a bit of a different feel, It's Always Sunny In Philadelphia: Season 3 continues to deliver the laughs.
Discussion Forum
Discuss It's Always Sunny in Philadelphia on our TV talk forum!