Jane the Virgin: Season 1
(2014 - 2015)
SEASON: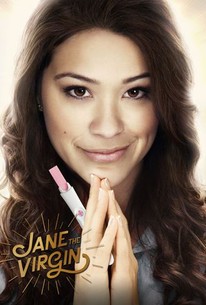 Rate And Review
Jane the Virgin: Season 1 Photos
Tv Season Info
In the premiere season of this comedy-drama based on a telenovela, a chaste young woman named Jane (Gina Rodriguez) is accidentally impregnated via artificial insemination. She struggles to break this news to her deeply religious family, as well as to her devoted fiancé, Michael (Brett Dier). Further complicating the situation, she develops a mutual attraction to the baby's father, Rafael (Justin Baldoni), a childless married man who desperately wants this baby in his life. More family drama erupts when Jane learns that famous actor Rogelio de la Vega (Jaime Camil) is her own biological father, and she gets angry at her mother, Xo (Andrea Navedo), for keeping this secret from her for all of these years.
News & Interviews for Jane the Virgin: Season 1
Audience Reviews for Jane the Virgin: Season 1
Season 1's brilliant. It's a fascinating and original script. One of the more balanced ensembles from top to bottom; everyone is enjoyable.

I don't really buy the performances, and don't understand the appeal.

The show is very well written with a supporting cast that is either very talented or just funny in their roll. It reminds me of a cheezy Telemundo soap opera, but the show steers right into the madness. The only downside is the annoying narrator, I personally could do without. But it is a good show to pass the time if you are finished with other shows.

I loved the show at the beginning, however as it progressed I felt Janes character became increasingly boring. I liked other characters storylines much more than hers. She didn't really have a storyline other than she was pregnant. I wished her character got some more interesting scenes.

At the very beginning honestly i liked the topic, idea of the Jane the Virgin. But after liking the topic, i started liking even more the actors, and they really got my heart. Jane the Virgin, just made me think of it, every day of my life untill today where is the day that i finished my 100th episode (and as most of you, the very first thing that got in my head "all in tears" was to write a really big, full of emotions text together with a rate). I abstolutely, totally wish today i was a person that hasn't even seen one episode of JthV, so i could start watching it from E1S1 :( But as someone that did watch, i will say that JthV gave me the best experience in my life, like so much lessons, so much to think about, so much not expected things happend that you really got us shocked. As a huge fan of yours, i sincerely thank you for the amazing job. Love you so much, and looking forward to see someone release in this world a serie that will be at least 1% like yours. Bena, Skopje - Macedonia.

Funny but you can tell it's starting to get political, left wing 👎🏼

to be honest, I'm am obsessed with this show and everything that goes along with it it is just that the amount of times I see Rogelio is unnecessary

With its out of the way story line , each episode brings something fresh to the table with Jane's love life and the mystery of Sin Rostro . The good pacing and development makes for such an incredible time with the character arc . Add in the theme of mirroring throughout the Villanueva's family with their different personalities allows for many wonderful interactions together and with their respective partners . P.s The narrator is a wonderful addition as it provides a smooth transition and adds more of a comedic purpose to the show . In all a very wholesome time with wonderful acting , great themes , growth , mystery and a lovely dovely time makes this to be a very nice telenova to binge through the night .

I knew, writer instinct was always there somewhere in me as my husband loves my love-confession letters and my friends hook me up with writing mails or greeting cards. But this instinct was definitely fueled up after i started watching 'Jane The Virgin'.I was afloat in a dream with Jane as the torchbearer.Suddenly surfing and reading blogs on how to be a writer , brushing up vocab,posting something or other in social media and exploring ways to unblock my mind in order to discover stories that i can pen down became so important to me. The telenovela harbingers all aspects of drama and inspires goodness in people. It touches all the sensitive part of a girl's life in a way that will make us feel how beautiful life is and how every moment of it is special that means something important.In my opinion this series keeps the entertainment spirit high and brings back memories of first kiss, first dance,first crush,all boyfriends,heart glowing when in contact with true love,never losing sight of your passion, respect for parents, freedom of letting your heart out , kindness to everyone,standing strong in marriage,believing that everyone has a good side . Now, when we are all busy making money may be a teleneovela which keeps a check on our morale-meter is something we really need and 'Jane The Virgin'certainly serves the purpose.

Funny, dramatic and absolutely genius. Love it.