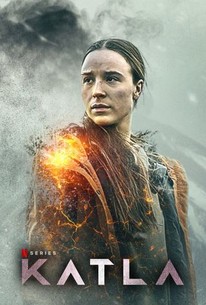 Rate And Review
Audience Reviews for Katla: Season 1
I think many will dislike it because of the slow pace, and some of the acting is not so great. But most of it is, and overall the I think the show is great. The premise is interesting, and specific situations that various characters find themselves in is very engaging. Visually, it's new and amazing. My biggest complaint is about the reaction of the main gal to her big revelation and its effect on her marriage. But on the other hand, her ultimate solution was stunning. This show is an easy 4-4.5.

Horribly rotten plot. People's encounters with such extraordinary events were very anticlimactic. The plot itself contained little information about the mystery and brushed past it like it was nothing. The directing was very bad at best and infuriating at worst. There were scenes that just simply did not correlate with the reality of how those interactions would happen in real life. Scenes where characters were faced with learning hard extraordinary facts about the plot were not even included (most likely cut out due to bad acting post-prod).\nAll in all, an interesting idea with horrible execution that left little to nothing to be desired by the end. Better off skipping this one.

Original, nervewrecking, beautifully shot...

Incredible cinematography coupled with interesting and engaging characters.

What a waste of time. All that stalling just to lead up to a lackluster ending. Don't even bother with this show, you will leave wondering "wait, that's it?"

This is an absolutely haunting, powerful show. It walks the line between a literal narrative and an extended metaphor, which has given us a lot to talk about after reaching the end of this season. It's also worth noting that Guðrún Ýr Eyfjörð (as Gríma) is a very impressive lead for a first-time actor...I look forward to seeing her in more roles in the future.

Brilliant show.....gritty, mysterious and spooky. Kornakur at his best!!!

Katla (TV 2021): Iceland. Volcanic eruption leads to strange things on a glacier. Dead people and clones come to life. What's going on? A sci-fi mystery and a study of loss and grief. It's bleak, gritty, and slow. In the end, it all comes together in a satisfactory resolution. B-

SO SLOW, I get that they wanted to build suspense but not a single character could communicate with another when people start coming back from the dead? If this sort of thing happened to anyone around me it would be a big WTF moment followed by a lot of questions and discussion. Instead all of these characters play it cool like they have doppelgangers drop by on the daily and no one can communicate to save their life. Neat idea, lazy drawn out writing.

The landscape is haunting by itself, and the story that slowly unfolds is held with utmost care and just allows a little creeping dread in here and there, but it's by God effective.