Killjoys: Season 1
(2015)
SEASON: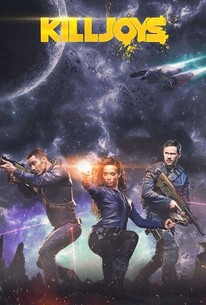 Killjoys: Season 1 Photos
Tv Season Info
The space drama set in a distant system plagued by an interplanetary class war follows the lives of three bounty hunters, or Killjoys, working for the Reclamation Apprehension Coalition, an independent organization that shouldn't take sides in political conflicts but is often involved in conspiracies nonetheless. The first season opens with John (Aaron Ashmore) and Dutch (Hannah John-Kamen), who have been working together as Killjoys for six years, trying to save D'avin (Luke Macfarlane), Johnny's brother, from a warrant that was taken out on him. After successfully accomplishing their mission and managing to get out of trouble for lying to their own bosses, D'avin decides to join them as a Killjoy, and together they take on assignments that help them uncover truths about their past and about the world they live in now.
Audience Reviews for Killjoys: Season 1
½
From the creator of Lost Girl comes the sci-fi action series Killjoys. The show follows a group of interstellar bounty hunters known as Killjoys, and in Season 1 Dutch and her partner Johnny rescue Johnny's estranged brother, who then decides to join their team; meanwhile a mysterious man from Dutch's past re-emerges and attempts to pull her back into the assassin's life that she fled. Lead actress Hannah John-Kamen gives a strong performance and is especially good in the femme fatale role (having a shadowy past that she's running from). However, the storytelling is rather clunky at times; throwing out a lot of exposition to setup the different planets, cultures, and the backstories. Yet the writing for the main characters is really strong, which makes them quite compelling and the heart of the show. Season 1 of Killjoys is a little uneven and convoluted, but it's also entertaining and has a lot of raw potential.
https://multiscreenmotivision.wordpress.com/2015/07/09/killjoys/
A fun show with an inconsistent pace, Killjoys will entertain most except the die hard sci-fi fans.
Discussion Forum
Discuss Killjoys on our TV talk forum!