Love & Anarchy: Season 1
(2020)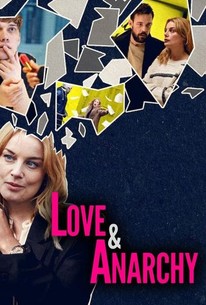 Rate And Review
Love & Anarchy: Season 1 Photos
News & Interviews for Love & Anarchy: Season 1
Audience Reviews for Love & Anarchy: Season 1
You arrive expecting a soft romantic comedy and leave with a lot more! You get personal revolution, chemistry, humor in the right measure, criticism about everyday issues, ripening... Delightful to watch!

This gem is among the best original content in the last decade. Witty, sexy, eccentric, powerful.. I'm gonna be rewatching this many times.

Oh my god. I just loved this so much. The storyline, the casting, the acting... everything. Can't wait for the next season!

Enjoyable show with a creative concept! I liked how it did not restrict itself to a light rom-com plot.

A different and refreshing rom-com about non-conformity, honesty and acceptance. Highly recommended.

Great characters, and an endearing story. Ida Engvoll is superb and reminds me somewhat of a Swedish Greta Gerwig .More seasons please.

Sweden and dramedy- go figure. Luv it so far.

This characters are obessed with Apple products, first i noticed. Despite that, series plot is interesting, but till the end of the season don't offer that much thrilling.

I enjoyed their intimate relationship built upon glints of anarchy in theirs life. They say anarchy is mother of order, here, anarchy is mother of love.

I really liked this series...quirky and endearing!