SEASON: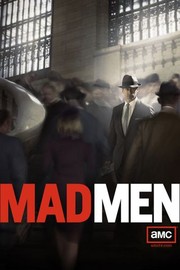 TOMATOMETER
AUDIENCE SCORE
Critic Consensus: The second season of Mad Men delves deeper into the personal lives of its characters without sacrificing the show's trademark droll humor and period atmosphere.
Episodes
Air date: Jul 27, 2008
The second season opens with Don butting heads about personnel matters with Duck, who wants "younger creative talent;" the staff is up in the air about its approach to an airline-company account; Betty bumps into a former roommate who has begun a surprising new career; Joan is at a loss about where to put the new copy machine.More
Air date: Aug 10, 2008
Problems surface on the set of a commercial shoot while Don plays hooky from the office; ever-ambitious, career-minded Harry musters support for a sponsorship plagued by controversy; Betty steps in to help Don when he arranges a dinner to placate his upset clients.More
Air date: Aug 17, 2008
Peggy's family entertains a new priest assigned to their parish; Freddy and Ken wine and dine a client; the agency staff pitches in to prepare for an under-the-gun pitch meeting.More
Air date: Aug 24, 2008
Joan might have found Don a perfect secretary; Peggy comes to the rescue when Don finds himself in the middle of personal issues between a TV comedian and the man's wife; Pete and his wife see a fertility specialist to deal with her inability to conceive.More
Air date: Aug 31, 2008
Don and Duck attempt to make peace at the office; Peggy tries to find a way to participate in the high-level after-hours meetings being held by the executives; one of Duck's family members visits his office.More
Air date: Sep 7, 2008
Don steps up in class and purchases a new set of wheels that is more appropriate for a big-time executive; Pete, Harry and Ken put their heads together to land new accounts; a serious error by Don's secretary could reflect poorly on Joan; the staff reacts to the new objet d'art in Cooper's office.More
Air date: Sep 14, 2008
Father Gill tries to convince Peggy to volunteer her talents to a church project; Duck and Don team to woo a foreign-beer client by marketing to a new demographic; Harry turns to an unlikely source for help when his department is overloaded with work.More
Air date: Sep 28, 2008
Freddy Rumsen strikes out during a pitch meeting with his team; ever-eager Pete seizes a chance to exploit an opportunity at the office; an old friend is the beneficiary of Don's loyalty; Sara Beth proves to be a welcome ally for Betty.More
Air date: Oct 5, 2008
Betty visits her ailing father; Paul's girlfriend, Sheila, advises him about his civic responsibilities; Pete's mother tries to put the kibosh on an important family move that he and Trudy are planning.More
Show More Episodes
Mad Men: Season 2 Trailers & Photos
Tv Season Info
Following a first-season finale in which housewife Betty Draper (January Jones) comes to the realization that her ad-exec husband, Don (Jon Hamm), may be having an affair, Season 2 dives headlong into the couple's marital strife. Professionally, Don is flying high as a junior partner and creative director at the Sterling Cooper ad agency, but his home life is rapidly deteriorating. After Betty kicks him out for apparent infidelity, Don moves into a hotel and is only able to see his children with Betty's permission. At Sterling Cooper, the long-simmering power struggle between Don and Herman Phillips (Mark Moses) reaches a boiling point, as the impetuous director of account services negotiates a deal with a British firm that he believes will finally give him the upper hand. A subtler power play is made by Peggy Olson (Elisabeth Moss), who seems to have recovered nicely from the shocking birth of her child by married account exec Pete Campbell (Vincent Kartheiser). The product research that Peggy conducted while serving as Don's secretary during Season 1 eventually leads to her promotion as the agency's first female copywriter, and even her own office. Other employees also confront emerging social issues of the day: Creative copywriter Paul Kinsey (Michael Gladis) breaks social taboos by dating a black woman, while art director Salvatore Romano (Bryan Batt) secretly struggles with his homosexuality. And romance remains tricky for secretary Joan Holloway (Christina Hendricks)---whose doctor fiancÚ proves controlling and abusive---and her ex, Sterling Cooper partner Roger Sterling (John Slattery), who embarks on yet another extramarital love affair with yet another young secretary. … More
News & Interviews for Mad Men: Season 2
Friend Ratings for Mad Men: Season 2
No Friends? Inconceivable! Log in to see what your friends have to say.
Login
Audience Reviews for Mad Men: Season 2