Operation Hell on Earth
EPISODE: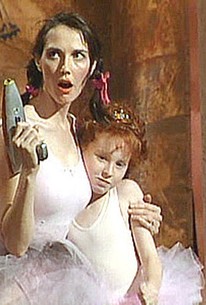 Episode Info
This episode of HBO's cutting-edge sketch comedy series Mr. Show opens with Bob Odenkirk and David Cross introducing their redheaded moppet of a daughter, Superstar, who comes on-stage in a tutu and tap dances. The two stage parents reminisce (in flashback) about the mistakes their own parents made. David's mother (Mary Lynn Rajskub) competed with him for his father's attention ("I can drool better than a dumb baby!"), while Bob's parents were gamblers who goaded him into betting "zillions" of dollars on such matters as what time he would fall asleep each night. Bob and David swear they won't make the same mistakes with Superstar, but when they notice her tap dancing slacking off, they scream at her. This turns out to be the unhappy flashback of Future Superstar (Jill Talley). The episode also features Ken (David), a white supremacist planning the forced relocation of all minority groups and homosexuals into their own separate parts of the country. Ken has assembled a multi-ethnic group of co-conspirators to help him plan, but they can't seem to agree on much. Ken tells them about "Operation Hell on Earth," which involves placing a bomb in a rented van at an undisclosed location. One member of the group suggests that a recording of an explosion would be better, because it wouldn't damage the van. After some discussion, they decide to play Billy Ocean's "Caribbean Queen" instead of a recorded explosion. This show also includes "The Recruiters," a Hoop Dreams-style documentary in which Bob and David compete to get a preschool basketball player to commit to their respective colleges. Another sketch features (David) as "Fartin' Gary," a comic whose act consists of uniquely expressive flatulence. He's "heckled" by an audience member (Bob) who "had Chinese for dinner." Dave Foley and Julia Sweeney guest star.
Operation Hell on Earth Photos
Discussion Forum
Discuss Mr. Show With Bob and David on our TV talk forum!