Peanut Butter, Eggs, and Dice
EPISODE: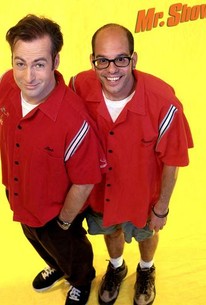 Episode Info
Bob Odenkirk and David Cross present a "very special episode" of Mr. Show. To boost their ratings, David reveals that he (not just the bald character he plays -- David Cross) is actually bald. Later in the show, Terry (Bob, from the first episode of Mr. Show), the British cameraman for "Fuzz," a Cops-like TV series, explains his inspiration to make a musical based on the show. Ronnie Dobbs (David Cross), the most arrested man in the history of the show, is naturally the star, and in one number he plaintively sings "Y'all are brutalizing me," to the cops. Later in the show we're taken to the "Cyrus Dewey Awards," named for a silent film actor who played mentally challenged characters in 65 films and gave himself an award for "making such a brave choice" after each film was completed. Bob LaMonta (David) is on hand, and introduces a film about his life with mentally challenged parents -- "Why Me? The Bob LaMonta Story." It opens with him in school, embarrassingly surveying the lunch his parents have prepared for him -- a peanut butter, eggs, and dice sandwich, and a thermos full of silverware. To escape his humiliation, LaMonta begins running, and he doesn't stop until he's a three-time Olympic champion. After the film, which is dedicated to his memory, LaMonta explains that it's all true, except for a few dramatic choices.
Discussion Forum
Discuss Mr. Show With Bob and David on our TV talk forum!