Please. Don't Kill Me
EPISODE: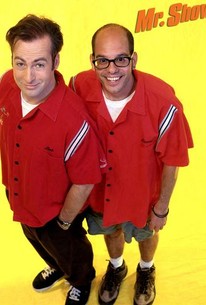 Episode Info
Bob Odenkirk and David Cross open this episode with their Swearing Jar. Every time someone in the cast curses, they have to put a nickel in the jar, and the money goes to a charity, Swears for Cares. "Hopefully we'll make a difference," says Bob. "A little...f*cking...difference," David corrects him, dropping a nickel in the jar. There's also a documentary about "The Fab 3," three mop-topped British guys in the early '60s whose photographs make them a pop phenomenon, although they play no music. They travel to America, and there's a press conference where one of them, Larry (Cross), says, "We've been photographed more than Jesus Christ." "Everyone agreed that this was true," the solemn narrator recounts, "and the group was shocked at the lack of controversy it sparked." Later in the show, Panzic Poojaran (Cross), a man enduring a hunger strike for political reasons, holds a press conference, during which he dazedly states, "I want the world to know...that I am so hungry." If he dies, he says he wants his people to know, "Bury me in mashed potatoes." The show closes with a clip from the annual Doomsday Telethon. Thirty million dollars must be raised each year in order to stop Dr. X (Odenkirk), a bald mad scientist with a German accent, from blowing up the earth with his "doomsday laser." A comic (Tom Kinney) who makes kooky sound effects like Charlie Callas appears as a guest, and says of the doctor, "This man is one great evil madman." The young "poster boy" for the Doomsday Telethon also comes on the show. Dr. X prods the boy, "Tell zee audience vhat you told me backstage," and the boy says, "Please don't kill me." "Dis is vhy I do dis," says Dr. X, "For der kids."
Discussion Forum
Discuss Mr. Show With Bob and David on our TV talk forum!