Nikita: Season 2
(2011-2012)
SEASON: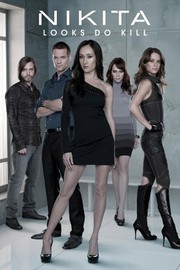 TOMATOMETER
——
Average Episode Score:
N/A
AUDIENCE SCORE
Critic Consensus: No consensus yet.
Episodes
Air date: Sep 23, 2011
In the second season premiere, Nikita and Michael plot to take down Division and Oversight and are prepared to use the contents of the black box to do so. Amanda is now running Division but Oversight has assigned one of their own, a new agent named Sean, to keep an eye on her. Amanda's first mission is to get back the black box from Nikita, and she enlists Alex's help to do so. Alex refuses until Amanda tells her she will help her find the man who killed Alex's father. Meanwhile, Nikita and Michael find help from an unlikely ally.More
Air date: Sep 30, 2011
While investigating P9, an old corrupt Division program that seems to have resurfaced, Nikita and Michael run into Owen. He tells them he is searching for Dr. Joseph Mars, who is not only the mastermind behind P9, but also invented the Regimen and could help Owen wean himself off the dangerous drug. Michael is hesitant to trust Owen again but Nikita decides the three should join forces. Meanwhile, Percy demands to see Alex.More
Air date: Oct 7, 2011
Birkoff tells Nikita and Michael that a black box file reveals that an international terrorist named Ramon, who has been taking credit for some serious political assassinations, now works for Division. This news upsets Nikita since she was the agent that captured Ramon years ago and turned him over to Percy. Amanda convinces Alex to kill Anton Kochenko, a man who used to work for Alex's father, and plans to let Ramon take the credit for the murder. However, when Nikita disrupts Amanda's plan, Amanda fights back by taking what Nikita loves most.More
Air date: Oct 14, 2011
Nikita is stunned when she hears that her old Division partner Kelly escaped from a Turkish prison. Nikita thought Kelly died years ago and always felt responsible because it happened on the mission where Nikita escaped from Division. Knowing Amanda will go after Kelly, Nikita tells Michael they have to go to Turkey to help her. Amanda sends Alex and Roan to Europe to stop the former partners from reuniting.More
Air date: Oct 21, 2011
Michael discovers Cassandra, a woman he once romanced under Division orders, is in danger. Feeling guilty for how things ended, he wants to help her but Nikita suspects there is more to it than easing his conscience. Amanda manipulates Alex into helping her on a mission but Sean gets caught in Amanda's web of lies and begins to doubt Division's true motives.More
Air date: Oct 28, 2011
While searching for information on the black box, Birkoff stumbles upon Nikita's birth certificate. Nikita and Michael track down Nikita's father, Richard, but the reunion is not quite what Nikita expected. Meanwhile, Percy tells Alex that the black box that Nikita has contains information that could help her avenge her father's death.More
Air date: Nov 4, 2011
While in prison, Ryan discovers patterns that reveal how Oversight gets its funding. Ryan arranges a meeting with Nikita to fill her in, but Amanda intercepts their coded messages to each other and alerts Oversight, who sends in one of their own to interrogate Ryan. Nikita and Michael scramble to break Noah out of prison before Oversight gets to him. Meanwhile, Alex is being tailed by Gogol, and comes face to face with someone from her past.More
Air date: Nov 11, 2011
Michael becomes alarmed when he hears Cassandra is in trouble and rushes off to help her. He discovers General Tupelov has accused her of stealing two million dollars and has threatened to kill her unless she returns it. However, when Cassandra's story doesn't add up, Nikita becomes suspicious of what she might be hiding. Meanwhile, Alex receives a very tempting offer from Percy that could give her the resources to eliminate Sergei Semak.More
Air date: Nov 18, 2011
Nikita steals funds from Oversight, forcing them to host an emergency meeting. Nikita and Birkoff figure out how to spy on the meeting so Nikita can identify the other members of Oversight, but things go awry and Sean captures Birkoff. Amanda demands to know where Nikita is hiding, but Birkoff refuses to give up his friend so Amanda tortures him. Meanwhile, Alex sets her plan in motion to reclaim her father's empire. With a price on her head, Alex realizes the easiest way to get into Russia undetected is the same way she was smuggled out -- through the illegal sex ring.More
Air date: Dec 2, 2011
With Michael out of town, Nikita turns to Owen to help her track down and steal another black box from a Guardian. Unfortunately, she discovers that Owen is working for an unlikely employer that could jeopardize Nikita's whole operation. Amanda realizes Alex received privileged information about Semak and that information could only have come from Percy. Furious that Percy undermined her, Amanda strips him of all his amenities. Meanwhile, back home in Russia, Alex finally makes her move on Semak.More
Nikita: Season 2 Trailers & Photos
Tv Season Info
In season two of this sexy and suspenseful series featuring international action star Maggie Q in the title role, the charming and deadly Nikita waged a war against Division, the agency that created her.
Genre:
Drama
Network:
CW
Premiere Date:
Sep 23, 2011
Executive Producers:

Craig Silverstein

,

McG

,

Peter Johnson

,

Danny Cannon

,

David Levinson

Producers:

Craig Silverstein

,

David Levinson

,

Danny Cannon

,

McG

,

Peter Johnson

,

Kalinda Vazquez

,

Andrew Colville

,

Jim Hilton

,

Albert Kim

,

Marc David Alpert

,

Kalinda Vasquez
Cast
News & Interviews for Nikita: Season 2
Friend Ratings for Nikita: Season 2
No Friends? Inconceivable! Log in to see what your friends have to say.
Login
All Critics (2) | Fresh (2) | Rotten (0)
In the past, the lines were clear - Division was bad, while Nikita and Alex were good. I'm not sure the sides are quite as obvious this season.
Happily ever after? Not any time soon - unless you're a fan of great television, with a whole new season of Nikita in front of you.
Audience Reviews for Nikita: Season 2
There are no featured audience reviews yet. Click the link below to see what others say about Nikita: Season 2!
Discussion Forum
Discuss Nikita on our TV talk forum!
News & Features