Is There Life on Mars?
EPISODE: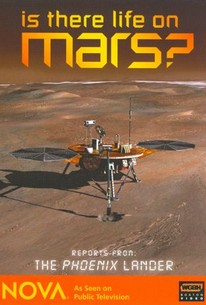 Episode Info
It lingers as one of the great unknown questions associated with extraterrestrial exploration - one that has intrigued astronomers and stirred imaginations for centuries: Does life exist on Mars? In the early 21st century, NASA began a series of systematic attempts to definitively answer this question, initially by sending twin robot explorers, the Spirit and the Opportunity , to the legendary Red Planet in 2003. Over the ensuing four-year period, the robots dramatically superseded the expectations set forth for them by NASA, by traveling 20x farther and lasting 16x longer than predicted. Inspired by this success, with the said question still unanswered, NASA supplemented the exploratory missions with an armada of cutting edge satellites that enabled scientists to begin to piece together a definitive history of Mars. The documentary Nova: Is There Life on Mars systematically reviews the findings obtained via these efforts.
Is There Life on Mars? Photos
Discussion Forum
Discuss NOVA on our TV talk forum!