Napoleon's Boney Parts
EPISODE: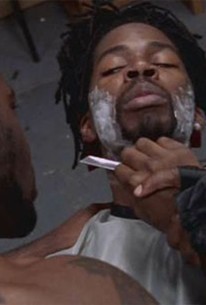 Episode Info
Oz is buzzing with news of Metzger's (Bill Fagerbakke) death. McManus (Terry Kinney) recommends an old friend, Sean Murphy (Robert Clohessy), to Glynn (Ernie Hudson) as a replacement. Schillinger (J.K. Simmons), unhappy with the prison's investigation into Metzger's murder, decides that the Nazis should investigate on their own. Cyril (Scott Winters) gets thrown into the hole after Robson (R.E. Rodgers) provokes him by talking about how the Nazis raped him. His brother, Ryan (Dean Winters), finds out he's had 40 years tacked onto his sentence for getting Cyril to kill Dr. Nathan's (Lauren Velez) husband. Coyle (Treach) gets reassigned to the barbershop, where he tells Hill (Harold Perrineau) a lurid tale of a gruesome murder of an entire family for which he was never caught. Hill, horrified by the crime, considers ratting out Coyle, who later tells Hill that a friend videotaped the crime. Said (Eamon Walker) meets again with Tricia Ross (Arija Bareikis), who is involved in the lawsuit over the riots. There is obviously some kind of mutual attraction between the two, and his followers chastise him. Said threatens a hunger strike when McManus won't allow him to keep food in his cell during Ramadan. Diane Wittlesey (Edie Falco) learns from McManus that her mother has died. Claire Howell (Kristin Rohde) flies into a violent jealous rage after seeing McManus comfort Wittlesey. Keller (Christopher Meloni) asks to be released from protective custody, but Beecher (Lee Tergesen) won't forgive him, and Keller is later stabbed by an unseen assailant. Adebisi (Adewale Akinnouye-Agbaje) asks to be transferred to the AIDS ward, and his revenge plot begins to take shape. Dr. Garvey (Milo O'Shea) has another angry exchange with Dr. Nathan over the non-treatment of the suicidal Alvarez (Kirk Acevedo), and fires her. This episode was directed by actor Matt Dillon.
Napoleon's Boney Parts Photos
Discussion Forum
Discuss Oz on our TV talk forum!