Dream a Little Dream of Me
EPISODE: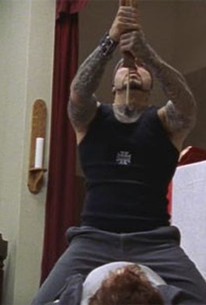 Episode Info
Alvarez (Kirk Acevedo), recovering from his stab wound, learns that despite their agreement, Guerra (Otto Sanchez) nearly killed him. Brass (Blake Robbins) confronts Morales (David Zayas), demanding to know who cut him. Rebadow (George Morfogen), hoping to help his sick grandson, asks Brass to buy him a lottery ticket. Kenmin (Michael Delmare) returns to Em City. Or'Reily (Dean Winters) worries when Kenmin and Li Chen (Nelson Lee) begin taking music lessons from his mother, Suzanne (Betty Lynn Buckley). With Pancamo (Chuck Zito) in the hospital, Schibetta (Eddie Malavarca) tries to take care of Schillinger (J.K. Simmons) on his own. Redding (Anthony Chisholm) forms a truce with Morales. Keller (Christopher Meloni) returns to Oz, only to find himself in protective custody facing the death penalty for an old crime. Glynn (Ernie Hudson) refuses to grant Penders (John Lurie) any special favors, despite the fact that the convict saved his life. Said (Eamon Walker), still unable to control his temper, cracks down on White (Michael Wright), forbidding him from associating with drug dealers. When Said learns of the addict's interest in singing cowboys, he arranges for him to take music lessons with Suzanne. Hill (Harold Perrineau, Jr.) grows increasingly despondent over the death of his mother and his divorce. While Kirk (Sean Dugan) continues plotting against Cloutier (Luke Perry), Hoyt (Evan Seinfeld) has another vision of the reverend, who urges him to kill Kirk.
Dream a Little Dream of Me Photos
Discussion Forum
Discuss Oz on our TV talk forum!